Not Everyone on the Left Would Be Sad to See Alan Dershowitz Leave the Democrats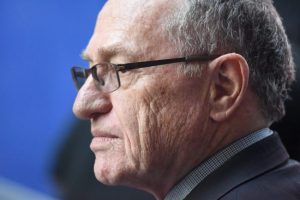 Yesterday, we reported that lawyer and outspoken critic of political correctness Alan Dershowitz basically gave the Democratic National Committee an ultimatum: they can keep him if Keith Ellison doesn't get to be DNC chair.
As it turns out, not everyone on the left really wants to keep him.
Cenk Uygur, host of The Young Turks, tweeted this:
Alan Dershowitz is "threatening" to leave Dem Party if @keithellison is head of DNC. #Twofer #WinWin #GoodRiddance What took you so long?

— Cenk Uygur (@cenkuygur) December 31, 2016
He got plenty of responses, too:
@cenkuygur @keithellison the guy wrote article in @sfchronicle titled "Want to Torture? Get a Warrant." Good riddance. #EllisontheMedicine

— Mike Lewis (@MikeLewisATX) December 31, 2016
@cenkuygur @keithellison How could the possibility of Dershowitz leaving be seen as a "threat" in any conceivable context?

— Rob Dakin (@Rodak1) December 31, 2016
@cenkuygur @keithellison Don't get me wrong, we agree mostly. But if he hates progressive values so much that he'll resign, good riddance.

— George Mason (@70chickens) December 31, 2016
@cenkuygur @keithellison And progressive democracy says ….. pic.twitter.com/7zkNrniHgw

— JenniferV (@2cents4change) December 31, 2016
Uygur got dozens of responses from people who all shared the sentiment that Dershowitz, who is very strongly pro-Israel and who believes in using torture on terrorism suspects, should have left a long time ago. It wasn't just TYT fans getting in on the action, though:
@thehill #Dershowitz should leave whether or not Ellison becomes DNC chair.

— Alan Chwick (@iNCNF) December 31, 2016
Alan Dershowitz Threatens to Leave Democratic Party: Dems Cross Fingers In Hopes He Means It https://t.co/QpnKpf4DjS

— Matt Taibbi (@mtaibbi) December 30, 2016
I don't ever remember giving a shit If Alan Dershowitz was in the democratic party or not.#dnc

— Rabid Badger (@rabidbadger) December 31, 2016
@SissyWillis In reality, Dershowitz and others like him will stop paying membership dues, but won't "leave" the party. Virtue signalling

— Michael_Haz (@Michael_Haz) December 31, 2016
As a lawyer and professor, he would really only — as pointed out in the above tweet — be stopping the payment of any dues to the party, so "leaving" seems more symbolic than anything.
Still, to the people who expressed gratitude that he might leave, it's the good kind of symbolism.
[image: a katz / Shutterstock.com]
Have a tip we should know? tips@mediaite.com