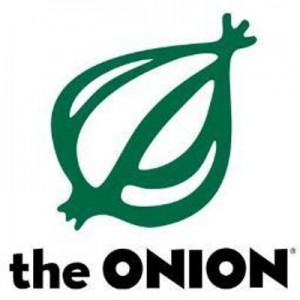 Satirical newspaper-turned-satirical digital content producer The Onion has just been purchased, and you will never guess who did the purchasing. It was Univision! The broadcasting giant will also acquire pop culture hub The A.V. Club and the Buzzfeed-skewering Clickhole, according to a report by NPR's David Folkenflik:
Univision Communications Inc., the parent company to the nation's leading Spanish-language broadcast channel, has acquired a controlling stake in the satirical news site The Onion, NPR has learned.

The agreement between two seemingly disparate media outfits was described to NPR by a person with direct involvement in the negotiations. A second person who was briefed on the deal by Univision executives also confirmed its broad strokes. The amount of money involved in the deal was not disclosed. NPR has also obtained a memo from the CEO of The Onion announcing the deal to staffers.

This account is in many ways reliant upon the information provided by those two people. NPR sought comment Monday from corporate officials and spokespersons for Univision and The Onion about the deal, as well as from Fusion and ABC about elements of this story involving them. None of those messages by voice mail or email were returned.
Wait, what? So, maybe this isn't not The Onion?
Let's just assume, though, that the story is correct. Here's what I don't get: why is everyone running with a headline that casts this deal as the strangest thing imaginable? NPR went with "Area Satirical Publication The Onion Sold To Univision (Seriously)," while The Daily Beast tweeted "Not Kidding."
Not kidding. Univision just bought The Onion https://t.co/NY0Uh2IjuE

— The Daily Beast (@thedailybeast) January 19, 2016
Univision is a ginormous media company, so why is it surprising they'd buy these hot media properties? What, because they feature Spanish language programming, this is suddenly an inconceivable match? It'not like they were bought by Kotex or Exxon-Mobile. They;re in the same business.
When asked for comment on the deal, Republican presidential frontrunner Donald Trump said he was pleased, and that Univision is now only a few ingredients away from assembling a "media taco."
Have a tip we should know? tips@mediaite.com