Nota Bene, Journalists: Slamming 'Mothers of Slain Thugs' on Facebook Will Get You Fired
This is just a friendly reminder from the staff of Mediaite to all aspiring journalists, anchors, and weathermen that if you casually refer to the families of young African American men killed by law enforcement as "mothers of slain thugs" you'll promptly lose you job.
Just ask Bob Goosmann — the radio weatherman of KRLD in Denver — who disastrously took to his public Facebook page last week during the Democratic National Convention with the following life-affirming message: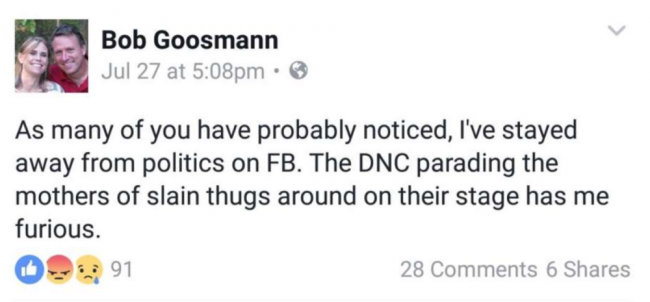 "I've stayed away from politics on FB," Goosmann offers, before dropping this little ditty: "The DNC parading the mothers of slain thugs on their stage has me furious."
Let's review. In Philadelphia last week, the DNC featured the mothers of Michael Brown, Trayvon Martin, Sandra Bland, and Jordan Davis among others in an effort called "Mothers of the Movement." "This isn't about being politically correct," said Sybrina Fulton, the mother of Trayvon Martin, on stage last week. "This is about saving our children."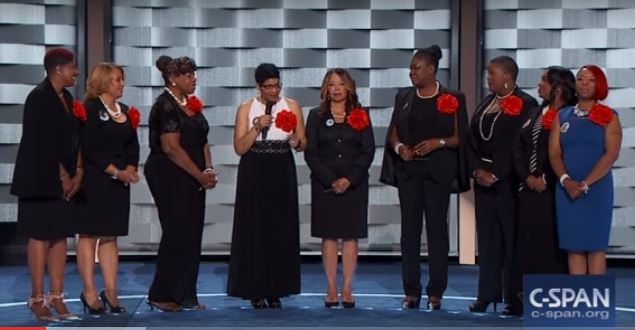 Apparently Goosmann had his own take on the events, slamming the appearance that apparently left him, "furious." He had been serving as the chief meteorologist on 1080 AM prior to the flap, and he later posted a comment on the website dallasnews.com clarifying, "I was angry that the DNC used these mothers to garner votes, and that was it," denying the racial implications of his original post.
He continued:
"I used the word thugs in my post, but I thought a thug was just a violent person. The definition of thug does not mention any race. I will say I talked with an African American acquaintance and he told me that he feels like when he hears the word, it is in reference to an African American individual. I had NO IDEA."
Although the Dallas News suggests that Goosmann resigned his position, FTV's Scott Jones notes that Goosmann was promptly fired by the network. The Facebook comment — as well as Goosmann's Twitter and LinkedIn accounts — were predictably deleted.
"What I say online, no matter where, reflects upon my station and employer. KRLD is a great station, providing invaluable information to all listeners, and I am sorry if they have had to deal with all the repercussions," he continued.
Looks like your ego is writing checks your body can't cash, Goos'.
—
[h/t FTV Live]
Have a tip we should know? tips@mediaite.com