NY Times Editorials On Economy Edge Out WSJ In Mediaite Survey Of Top University Economists
NY Times
Editorials On Economy Edge Out
WSJ
In Mediaite Survey Of Top University...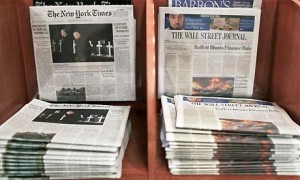 When it comes to offering solutions for our nation's economic woes, there may be no more stark contrast than the editorial pages of the New York Times and the Wall Street Journal. The Times focuses on cutting spending while raising tax revenue while The Journal editors believe the answer lies more in closing tax deductions while "slashing personal tax rates." So who is right? We thought it would be interesting to ask top economists (deans and top professors) from the top 50 business schools as ranked by the US News and World Report.  We sent out well over 120 surveys and received 22 responses to questions related to the media coverage of the economy in what we characterized as an effort to"present a snapshot of top economists." The Times edged out the Journal 12-9 (one didn't respond to this question). Not surprisingly, many of the economists wrote detailed responses about broad solutions for boosting the economy which do not fit into a multiple choice answers making "none of the above" the most popular answer to the question about how to best solve the problems. Of the choices made available, small tax increases coupled with significant spending cuts was deemed the most productive avenue to pursue. It was also interesting to note how many economists thought "bias" was the biggest problem with media coverage of the economy.
Here were the questions and the responses that we received from the participants in the (non-scientific) study.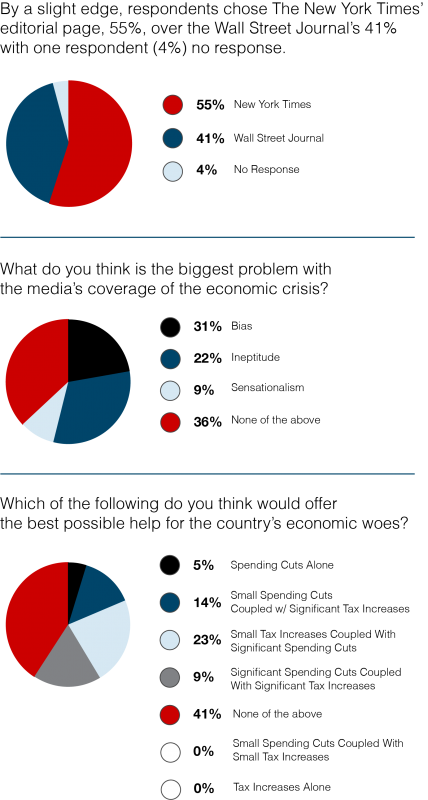 (Editor's Note: Graphic was updated to note answers that received 0%)
Have a tip we should know? tips@mediaite.com