At Santorum Rally, Fox News Analyst Frank Luntz Jokes About Running President Obama Over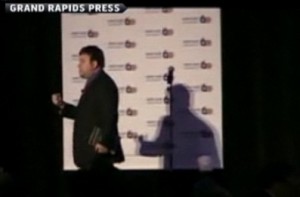 If you think the race for the Republican presidential nomination has been ugly, you're right. However, a recent joke by Republican pollster and Fox News analyst Frank Luntz indicates that the general election promises to be even uglier. Warming up a crowd at a Rick Santorum campaign event Monday night, Luntz cracked, "I have a 'Run, Barack, Run' bumper sticker, but I put it on the front of my car."
Frank Luntz is the messaging genius whose focus groups help the GOP fight against progressive policies like health care reform, and are a regular staple on Fox News. In addition to joking about running the President over, he threw in an ugly shot at Secretary of State Hillary Clinton for good measure, saying she'd moved to Chappaqua, which is "Indian (yes, because Native Americans naturally all speak "Indian") for 'separate bedrooms.'"
I don't know Frank Luntz personally (although I know I wish the Democrats had one of their own), and while joking about running down any president (or anyone else) with your car is ugly, making such a joke about our first black president carries with it an added layer of sickness, intentional or not. It conjures the worst of the black experience in America, from the hunting and killing of runaway slaves, to the not-so-distant lynching (by automobile) of James Byrd, Jr.
At a minimum, Luntz should apologize, and while I generally don't support speech firings, Fox News should seriously consider unloading Luntz over this. The issue here isn't the level of offensiveness (which is extremely high), it's the fact that Luntz's joke is about the application of deadly force to the President. Even if he didn't intend to incite violence against the President, and even if you conclude that no reasonable person would act on his joke, failure to punish that remark would be a tacit endorsement of the sentiment. Luntz's remark could charitably be seen as thoughtless, but a failure by Fox to react to it could not.
This isn't the first time a Fox News contributor has stepped in it like this. Current Fox News contributor Liz Trotta made an assassination joke about then-Sen. Barack Obama during the 20008 campaign:
She later apologized, and was not fired. While her joke was arguably worse than Luntz's, it was also an off-the-cuff remark, while Luntz's joke was part of prepared material.
Here's a clip of Luntz's joke, from The Rachel Maddow Show:
We contacted Fox News, Frank Luntz, and the Rick Santorum presidential campaign for comment on Luntz's remark. None have responded, as yet.
Have a tip we should know? tips@mediaite.com