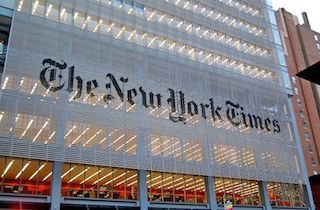 New York Times reporter Matthew Rosenberg was expelled from Afghanistan Tuesday, just one day after the Afghan government told him not to leave the country pending an investigation.
Afghanistan's Attorney General said he was acting in response to Rosenberg's article yesterday, in which he reported a group of Afghan officials were considering forming an interim government during fallout from a disputed election, "an action that would effectively amount to a coup."
The AG accused Rosenberg of putting his own opinion into the mouths of Afghan officials, and said the article was "considered divisive and contrary to the national interest, security and stability of Afghanistan." The comments came in a statement released to other news outlets but not the Times, because apparently this is grade school.
Outgoing Afghan president Hamid Karzai also denounced Rosenberg's piece, though without naming it, saying it showed "showed foreign interference and conspiracy in order to destabilize Afghanistan. …This kind of article should not be allowed."
Rosenberg defended his reporting. "The story is based on numerous sources both on and off the record and as yet no government official has challenged the accuracy of it," he said. "I have no stake in this election, I'm just reporting on it. In a country that I've covered for a long time, it's really dismaying."
According to the Times, Rosenberg is the first western journalist to be expelled from Afghanistan since the days of the Taliban.
[h/t New York Times]
[Image via Haxorjoe]
——
>> Follow Evan McMurry (@evanmcmurry) on Twitter
Have a tip we should know? tips@mediaite.com