NY Times Will Run Page 1 Editorial––For the First Time Since 1920––Demanding Gun Control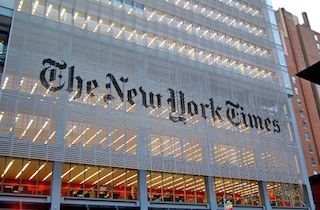 The New York Times is taking its gun control push a whole lot further with a page one editorial in tomorrow's edition of the paper.
This is a mostly unprecedented move. The Times hasn't run a front-page editorial since 1920, and according to the paper, the last time they did this, it was to criticize the nomination of Warren G. Harding for the presidency by the Republican party (he won that year).
Times publisher Arthur Sulzberger Jr. explained in a statement they want "to deliver a strong and visible statement of frustration and anguish about our country's inability to come to terms with the scourge of guns."
The editorial, titled "End the Gun Epidemic in America," declares "it is a moral outrage and a national disgrace that civilians can legally purchase weapons designed specifically to kill people with brutal speed and efficiency."
They acknowledge the criticism that gun laws wouldn't stop every potential mass shooting, but point to other nations that acted and say, "At least those countries are trying. The United States is not."
It goes on:
It is not necessary to debate the peculiar wording of the Second Amendment. No right is unlimited and immune from reasonable regulation… [Y]es, it would require Americans who own those kinds of weapons to give them up for the good of their fellow citizens.

What better time than during a presidential election to show, at long last, that our nation has retained its sense of decency?
[image via Wikimedia Commons]
— —
Follow Josh Feldman on Twitter: @feldmaniac
Have a tip we should know? tips@mediaite.com
Josh Feldman - Senior Editor