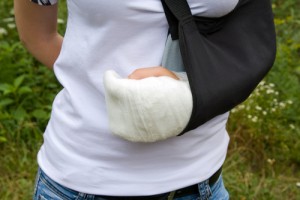 A New York woman is suing her now 12-year-old nephew for breaking her wrist during a supposedly overzealous display of affection during the child's eighth birthday party. Yes, that's right. An older family member (by blood, no less) is suing a child for $127,000, claiming he should shoulder some of the responsibility for her downtrodden place in life in New York's Upper East Side over fours years after the fact.
According to the Connecticut Post, Jennifer Connell told the Bridgeport courtroom that Sean Tarala was "negligence and carelessness" when he leapt into the unready arms of "Auntie Jen" at the Mar. 18, 2011 birthday party.
"All of a sudden he was there in the air, I had to catch him and we tumbled onto the ground," said Connell. "I remember him shouting, 'Auntie Jen I love you,' and there he was flying at me."
Connell didn't complain at the time, citing the occasion and her good ol' Auntie Jen intuition vis-à-vis not wanting to "upset" the boy. During the four years since the incident, however, she claims to have suffered greatly.
"I live in Manhattan in a third-floor walk-up so it has been very difficult," she said. "And we all know how crowded it is in Manhattan."

And then there is the damage the injury has done to Connell's social life.

"I was at a party recently, and it was difficult to hold my hors d'oeuvre plate," she said.
So Connell wants six figures because she can't hold a foodless plate of food at a Manhattan party. Meanwhile, Sean sat looking "confused" with his father, Michael Tarala in the courtroom. This may or may not have something to do with the fact that his mother, Lisa Tarala died last year and was unable to help defend her son in court.
[h/t Gawker]
[Image via Shutterstock.com]
— —
>> Follow Andrew Husband (@AndrewHusband) on Twitter
Have a tip we should know? tips@mediaite.com