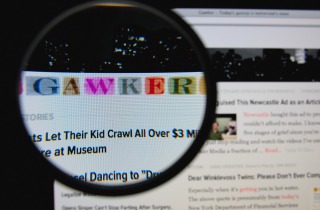 Media blogger Jim Romenesko has obtained an internal memo circulated to Gawker Media employees by chief operating officer Scott Kidder that warns of increased NYPD patrols near media companies in light of the Charlie Hebdo terrorist attack in France.
In the memo, Kidder tells employees that they should expect to see increased police presence outside their building in New York City, while ensuring them that there is no specific threat against Gawker.
Just hours after the Charlie Hebdo attack in Paris, Sen. Lindsey Graham (R-S.C.) warned journalists that they may be "soft targets" and should be "concerned" going forward. Graham, like Kidder, said he had no specific intelligence suggesting a specific attack was imminent, but encouraged journalists to exercise caution.
While many networks and newspapers refused to air or print any of the controversial Charlie Hebdo caricatures for various reasons, CNN President Jeff Zucker cited concerns for the safety of his employees as a reason to not air the cartoons.
Here's the full memo, via Jim Romenesko:
I want to send a note to let you know that the NYPD has advised us that they're increasing patrols of media companies in light of some of the activity in Europe — and so you may see an increased police presence outside 210 Elizabeth Street.

There is no specific (or general) threat against Gawker. And for the record, if we received any specific threat, we'd share that with you.

We continue to evaluate our security, both in the current and new office. If you have any specific concerns, please feel free to speak to your department head, Heather, and / or myself.

thanks,
Scott
[Image via Shutterstock]
— —
>>Follow Andrew Desiderio (@forza_desiderio) on Twitter
Have a tip we should know? tips@mediaite.com