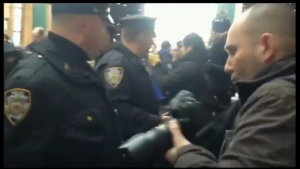 An NYPD officer who arrested a photographer as he snapped photos of a stop-and-frisk was convicted of a felony Wednesday for offering a false instrument for filing.
Officer Michael Ackermann was indicted in August 2013 on charges stemming from a 2012 incident where officers violently arrested New York Times photographer Robert Stolarik.
According to reports, Stolarik was taking photos of the arrest of a 15-year old girl when the altercation occurred. Officers on the scene shoved Stolarik's camera and told him to "get the fuck out of there." Stolarik stood his ground, continuing to film the officers and asking for their badge numbers; Stolarik asserts this is when officers turned violent, slamming him to the ground and "stepping on [his] head."
Stolarik was charged with obstruction of justice and resisting arrest after allegedly hitting a cop in the face with his camera. Ackermann, one of the arresting officers, claimed Stolarik had repeatedly flashed his camera at the officer's face in order to interfere with the arrest.
An investigation by the Bronx District Attorney's Office revealed that Stolarik's camera had no flash feature, and Stolarik denied claims that he hit anyone with his camera. "They just get to say whatever they feel like saying and then charging me with whatever they feel like charging me with to justify their actions," he said in an interview. The charges against Stolarik were eventually dropped.
Ackermann has since admitted that he made a mistake by claiming the arrest was because of the photographer's flash. The prosecutor, Pishoy Yacoub, said Ackermann lied because he knew his arrest wasn't justified. "He had to come up with an excuse. He had to come up with a lie," Yacoub said.
Officer Ackermann faces up to four years in prison.
Have a tip we should know? tips@mediaite.com