NY's Sen Schumer Orders Investigation Into Forthcoming Gun Meant to Look Like An iPhone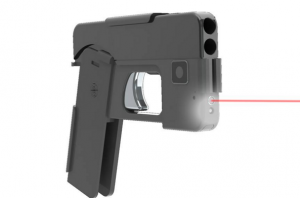 This morning, a tweet from New York's Senator Chuck Schumer caught my attention. He's always been stridently anti-gun, sure, but this tweet was pretty surprising.
It sounds outrageous & it is. iPhone shaped gun to hit shelves in months. Urging @TheJusticeDept & @ATFHQ to step in. More at 12:30pm

— Chuck Schumer (@SenSchumer) April 4, 2016
A few hours later, he tweeted a link to an article about the gun in question.
.@SenSchumer on the smartphone gun: "What's next, a gun made to look like a chocolate bar?" https://t.co/lKXtValQWX pic.twitter.com/aCmaAaVwyM

— New York Daily News (@NYDailyNews) April 4, 2016
The piece from The New York Daily News included soundbites from Schumer, who believes that even on a second glance, the gun could appear to be a phone. He pointed out that the National Firearms Act explicitly forbids weapons to be disguised as things that aren't weapons and he has called upon the Department of Justice and Alcohol, Tobacco and Firearms to investigate gunmaker IDEAL Conceal.
IDEAL Conceal describes itself this way on its Facebook page:
Invented a new style of self-defense. Looks like a cellphone when folded up, but push the saftey and you are ready to defend yourself.
Some have brought up safety concerns, which IDEAL Conceal is not worried about.

Schumer is among those who is not convinced that this will be seen for what it is. After revealing that over 4,000 people have already pre-ordered the gun "for nefarious purposes," he asked The Daily News, "What's Next? A gun made to look like a chocolate bar?"
[image via Facebook]
For more from Lindsey, follow her on Twitter.
Have a tip we should know? tips@mediaite.com