NYT: Trump Tax Docs Suggest He Could Have Avoided Paying Taxes for Nearly Two Decades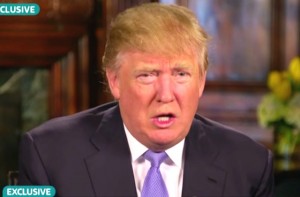 The New York Times has obtained a portion of Donald Trump's old tax returns and they suggest that he could have avoided paying federal income taxes for the last 18 years.
The Times published fragments of the mogul's 1995 returns on Saturday night, which were sent to them anonymously with a return address of Trump Tower. The biggest revelation is that Trump reported a $916 million loss back then which, according to experts, could have given him a legal pass on paying income taxes for almost the last two decades.
Trump apparently declared this loss in the midst of his business failures with three Atlantic City casinos, his airline business, and his purchase of The Plaza Hotel in New York. According to the Times' legal experts, Trump could have used this in a way that would wipe out any obligation to pay $50 million a year in taxable income.
"He has a vast benefit from his destruction" in the early 1990s, said one of the experts, Joel Rosenfeld, an assistant professor at New York University's Schack Institute of Real Estate. Mr. Rosenfeld offered this description of what he would advise a client who came to him with a tax return like Mr. Trump's: "Do you realize you can create $916 million in income without paying a nickel in taxes?"
Trump's campaign declined to challenge or confirm the loss of $916 million, but they gave a statement saying "Mr. Trump knows the tax code far better than anyone who has ever run for President and he is the only one that knows how to fix it." A lawyer who works for Trump sent the Times his own statement, threatening legal action against the paper if they publish Trump's records without his permission.
Hillary Clinton and other Trump critics have put the mogul on blast for not releasing his tax returns as is tradition for modern American presidential candidates. Clinton spokesman Brian Fallon had this reaction to the report:
Trump arrived late to his event tonight & gave a particularly unhinged set of remarks. Clearly he was sweating this looming NYT report

— Brian Fallon (@brianefallon) October 2, 2016
Tonight, the Trump campaign offered a more extended response to the Times piece.
Trump campaign responds to New York Times story pic.twitter.com/whMVRiRGAX

— Ben Jacobs (@Bencjacobs) October 2, 2016
UPDATE – 8:38 a.m. ET: The Clinton campaign has offered their official response to the news.
Trump "apparently got to avoid paying taxes for nearly two decades—while tens of millions of working families paid theirs." pic.twitter.com/g62jB9fKr5

— Hillary Clinton (@HillaryClinton) October 2, 2016
Trump has also offered his own personal response:
I know our complex tax laws better than anyone who has ever run for president and am the only one who can fix them. #failing@nytimes

— Donald J. Trump (@realDonaldTrump) October 2, 2016
I have created tens of thousands of jobs and will bring back great American prosperity. Hillary has only created jobs at the FBI and DOJ!

— Donald J. Trump (@realDonaldTrump) October 2, 2016
[Image via screengrab]
— —
>> Follow Ken Meyer (@KenMeyer91) on Twitter
Have a tip we should know? tips@mediaite.com