NYT's Martin Hits Kurtz For 'Preposterous' Book Anecdote: I Didn't Call Trump 'A Racist And a Fascist'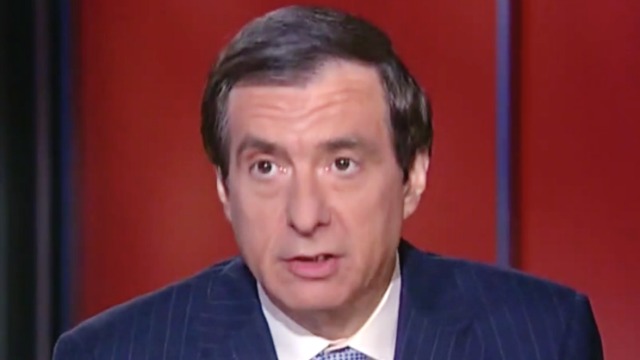 Fox News MediaBuzz host Howard Kurtz is receiving major pushback from Jonathan Martin of The New York Times over an unflattering anecdote the Fox anchor included in his new book.
Kurtz's upcoming book is called Media Madness: Donald Trump, the Press, and the War over the Truth. True to its name, the book explores how the president and the media are constantly trying to destroy each other while presenting themselves as the most honest broker of facts in America.
Based on excerpts that were previously available on Google Books, Kurtz uses a lot of his book to argue that the media has become blinded by "Trump trauma,' which causes them to make mistakes that damage their own credibility. Kurtz wrote that many journalists no longer try to hide their bias, saying they "abandon any semblance of fairness out of a conviction that they must save the country from Trump."
One story Kurtz included in the book was an account of how Martin allegedly told an RNC staffer that Trump was a "racist" and a "fascist" during the 2016 election.
Here's the excerpt, via CNN:
RNC staff member called Martin during the campaign and Martin allegedly yelled at the staffer for being a "racist and a fascist."

"Donald Trump is racist and a fascist, we all know it, and you are complicit," Martin is quoted as saying. "By supporting him you're all culpable."

The staffer called Martin again months later, which according to Kurtz, prompted another tirade from Martin. This time, the exchange led to angry phone call from then Republican National Committee Communications Director, Sean Spicer, to a Times editor to complain.
Martin disputed Kurtz's account of the conversation in a statement to Politico:
"Howie paraphrased a vague, preposterous-sounding quote to me that I told him sounded ridiculous and not the kind of thing I'd say. He couldn't tell me who I purportedly said it to, but said he'd see what more he could tell me and get back to me. I never heard another word from him after that. And I still have no idea what he or Sean Spicer are talking about."
After the Martin segment started making waves on Twitter, several journalists, including these three Times reporters, expressed serious doubt that the account is true.
Did Kurtz, Who has been critical of Wolff for not fact-checking, ever make a call to check this or just take it whole cloth? https://t.co/vp0VBJ3al6

— Maggie Haberman (@maggieNYT) January 23, 2018
The anecdote just doesn't have the ring of truth. It sounds like a script to a bad movie or TV show…. https://t.co/MQMg1RQitk

— Serge Kovaleski (@sergenyt) January 23, 2018
I've been overhearing @jmartNYT calls for years. (He's audible three states away.) This bears no resemblance. https://t.co/Kiyj6HNMqi

— Matt Flegenheimer (@mattfleg) January 23, 2018
[Image via screengrab]
— —
>> Follow Ken Meyer (@KenMeyer91) on Twitter
Have a tip we should know? tips@mediaite.com