Obama Campaign Rolls Out 'Dashboard' Social Network-Linked Organizing Platform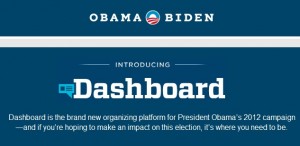 The Obama campaign has continued its innovative use of online social networking for grassroots organizing today with the rollout of "Dashboard," a campaign organizing tool that connects supporters to local campaign efforts, and even allows them to participate in get-out-the-vote efforts from the comfort of home. With the Obama campaign expecting to be outspent by a 2 to 1 margin, much of their hope rests on ground-game organizing like this.
From Obama For America Deputy National Field Director Marlon Marshall's email to supporters:
You already know how we're planning to win this thing: by running the best ground game in politics. From coast to coast, folks like you are out registering voters, recruiting volunteers, and having the conversations that will tip states our way.

Dashboard is our online hub for the organizing that's going on in every single state — from now up until the last vote gets cast.

It'll be where you can connect quickly with other volunteers to help get out the vote. You can join or organize an event right then and there. Dashboard will help you stay in touch and swap stories with other supporters to keep one another inspired for what lies ahead.

When you join Dashboard, you'll also get special updates on this race, new tools to track your progress, and access to groups you can join to organize around the issues you care about most.

No one else in this race has anything like it.
The Dashboard allows supporters to connect via Facebook, or using their MyBarackObama login, which is sort of like the ObamaWorld version of Facebook, or they can sign up for a new Dashboard account. From there, supporters can join local campaign groups, send messages to fellow supporters, and even do phone-banking right on their computers.
Campaign spending has loomed large as a determining factor in this election so far, particularly spending from outside groups, where Romney far outstrips President Obama. In 2008, President Obama enjoyed the best of both worlds, outspending rival John McCain by a 2 to 1 margin, while also setting records for grassroots support from small donors. Efforts like this, to mobilize the millions of grassroots donors and volunteers that are the Obama campaign's stock in trade, may be all that stands between Team Romney's billions and the White House.
A huge spending lead doesn't always guarantee success (although it has thus far in this election). For example, former Hewlett Packard CEO Meg Whitman spent nearly $180 million to lose the 2010 California Governor's race to Jerry Brown, who spent about $70 million.
Here's Obama For America National Field Director Jeremy Bird explaining Dashboard to supporters:
Follow Tommy Christopher (@TommyXtopher) on Twitter.
Have a tip we should know? tips@mediaite.com