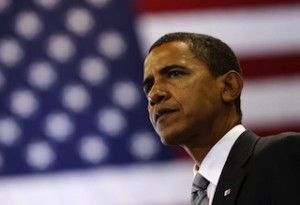 Harvard Law School is dedicating a new course to its rather prominent alumnus, President Obama. Charles Ogletree, who was a mentor to the president, will be teaching a reading group entitled "Understanding Obama," during the 2013 spring term.
The class, as described by Harvard's course catalog:
"This reading group will focus on the way in which race, religion, and politics have impacted the development of President Obama as a leader. We will explore his views as a biracial child, his time as a student at Harvard Law School, the successes and failures of his political campaigns, and the way religion and his views on faith nearly derailed his campaign. Finally, time will be spent analyzing the challenges he faces as president of the United States in establishing both his domestic and global policies."
As The Daily Caller notes, Ogletree was a mentor to both President Obama and First Lady Michelle Obama during their time at Harvard Law. The president graduated from the school in 1991. Ogletree told The Daily Caller the class will contain both negative and positive aspects of the president's political career:
"They'll be reading both critical and positive issues about Obama — of what's happened in terms of the way the race and religion have been viewed during his candidacy, his presidency, and how it affects the larger country; and some other classic reading on issues of law and justice," Ogletree said of the curriculum.

According to Ogletree, his personal experience with the president, as Obama's mentor, will not be a part of the reading group, though he made no bones about his admiration for Obama.

"I'm an Obama fan, I love the president — love him and his wife," he explained. "They were wonderful people to serve as a mentor when they were here in the law school at separate times in the 1980s. There's a lot to learn."

He asserted that none of his personal feelings about the president will be a factor in the class and that there will be no grade, paper requirements or exam requirements.
The concept came to him when Norman Gross, author of America's Lawyer-Presidents: From Law Office to Oval Office, contacted him about writing an essay about Obama.
(H/T Daily Caller)
Have a tip we should know? tips@mediaite.com