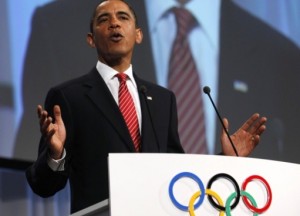 Judging from some conservative pundits' reactions, you'd think that Barack Obama lost his reelection bid when Chicago failed to get the IOC's blessing to host the 2016 Olympics. Matt Drudge wrote that the "World Rejects Obama." George Will suggested that Obama's new nickname could become "Vain Obama" after a speech to the IOC in which he used the word "I" a lot. The staff of Bill Kristol's Weekly Standard reportedly erupted into cheers at the news that Chicago didn't get it.
a. Aren't Americans typically supposed to want American cities to host the Olympics?
b. Isn't it a little self-obsessed to assume that everyone is as fixated on Obama's every move as the American op-ed column/cable news cycle?
This is not to say that the Olympic presentation was well-handled by the Obama team in Copenhagen, but making it all about Barack and Michelle Obama is simplistic. With characteristic pith, Monocle editor Tyler Brûlé dissects everything that went wrong in the "slightly smug and overly corporate presentations:"
Chicago's bid might have been technically up to scratch but the moment its IOC member Anita DeFrantz took to the stage with her hammy delivery, she'd lost the first three rows. When Mayor Daley got up and pitched his town like he was wooing another Boeing to move its HQ there, he lost Europe. When Doug Arnot butchered the French language, he lost the Francophone bloc. And whoever allowed the Obamas to serve up such helpings of cheese so early in the day should be sacked. Michelle Obama's overly personal story was disjointed and her husband just looked annoyed that he had to address such a small audience.
Sure, Michelle Obama's speech was a little maudlin, and she got slightly confused about Carl Lewis. But is this the sort of thing that sinks Olympic bids? Put another way — even if the US came in making an airtight presentation, would it have mattered, given other factors at play?
As a veteran IOC member told the LA Times, "We [North Americans] kind of think if you've got the best bid, the world will recognize that, and these decisions are made solely on the merits of the bid. Well, not solely." Rio came into Copenhagen representing an entire continent that had never hosted the Olympics — period. Hopefully, they will be able to satisfactorily address the safety concerns that continue to worry experts, but they've got it. Conservatives who think that the world is as obsessed with every move of President Obama's as they are forget that the Olympics are a world game, not just another dull frontier of American partisan politics.
(image via Newsday)
>>>NEXT: VIDEO OF CONSERVATIVE PUNDITS' REACTIONS
Have a tip we should know? tips@mediaite.com