Obama On Second-Term Obstacles: 'I Could Get A Whole Lot More Done' With Pelosi As Speaker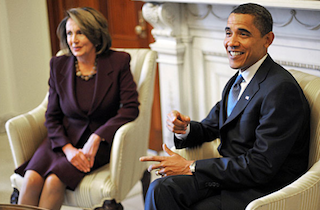 As we've seen in during the Washington gridlock over many issues, the Senate and the House are two different ball games. Even if Democrats manage to pass legislation in the Senate, there's a good chance it'll go nowhere in the Republican-controlled House. President Obama took note of this in remarks at a DCCC fundraiser on Wednesday, adding that his agenda would be easier if Nancy Pelosi were speaker of the House.
"I would be dishonest if I didn't say that it would be a whole lot easier to govern if I had Nancy Pelosi as Speaker," Obama said, according to POLITICO. At the fundraiser, which was at the home of San Francisco investor Gordon Getty, the president spoke specifically about issues college affordability, climate change, infrastructure, and early childhood education.
"My hope is, is that we're going to see more and more Republicans who say, you know what, I didn't come here just to fight the President or demonize Nancy Pelosi, I came here to get some stuff done," Obama asserted.
POLITICO reported that gun control and immigration, both of which have been making headlines recently, were left out of the remarks — but Obama noted that there would be more progress on the issues he did mention if Democrats had control of the House as well as the Senate.
"And they will be greeted with great enthusiasm by me and I think by Nancy, if we could get some more stuff done right now," he added. "But, realistically, I could get a whole lot more done if Nancy Pelosi is Speaker of the House."
Sights set on 2014.
(h/t POLITICO)
Have a tip we should know? tips@mediaite.com