I get it, President Obama. All jokes about drinking (and cooking with) your own pee aside, I realize that your upcoming appearance on Running Wild with Bear Grylls isn't really an opportunity for you to learn survival skills from Bear Grylls. Rather, it's an opportunity for you to advertise the White House's climate change agenda before a national audience of millions.
So of course you're up there in Alaska, having the time of your life with Grylls (and your security detail) while the two of you shoot footage for the show. Don't lie — we know you two have already been canoodling. We've got the Instagram posts to prove it:
Political affiliations aside, I'm totally okay with this.
What I am not okay with, however, is your blatant use of a selfie stick in this video posted by the White House's Twitter account:
Watch @POTUS go behind the camera in Alaska to talk about the impacts of climate change: http://t.co/eAVC9RjeMV https://t.co/5y0EZH9RKi

— The White House (@WhiteHouse) September 2, 2015
Again, I realize it's another part of your policy promotional tour in Alaska, but I just have one nagging question to ask you. Did you really have to use a selfie stick?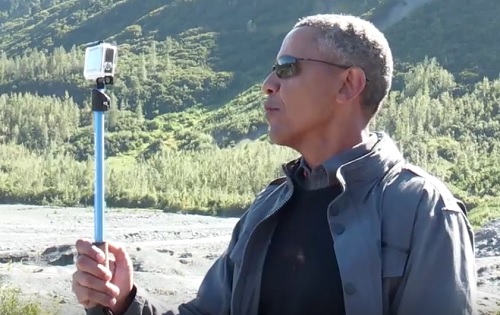 You know how much we here at Mediaite aren't the biggest fans of this particular piece of, erm, "technology." They keep popping up during the most inopportune moments in the media. In Wales, authorities suspect that a selfie stick held in the wrong place, and at the wrong time, might have lead to a hiker's death.
Hell, even GOP presidential candidate Ben Carson wrote an op-ed calling for an end to selfie sticks.
But let's face it, you've been a fan ever since BuzzFeed interviewed you back in February. So your blue, presidential selfie stick probably isn't going anywhere anytime soon. At least, not for another year.
[h/t The Hill]
[Image via Instagram]
— —
>> Follow Andrew Husband (@AndrewHusband) on Twitter
Have a tip we should know? [email protected]