Occupy Oakland Protestors Break Into City Hall & Burn Flags, Police Fire Tear Gas To Disperse Crowd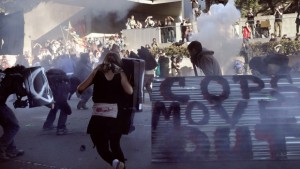 Occupy Wall Street continues to make its mark in demonstrations across the country, but one of their latest attempts to demonstrate in public got nasty quickly when riots broke out between the protestors and police officers. Over 300 protestors were arrested yesterday, after police witnessed many of them tearing down fences and construction equipment.
RELATED: 68 People Arrested As Occupy Wall Street Protesters Briefly Take Back Zuccotti Park On New Year's
The Christian Science Monitor estimated the Occupy crowd to be between 1000 and 2000 people, and many of the arrests took place "after police took scores of protesters into custody as they marched through the city's downtown."
[Oakland Mayor Jean] Quan said that at one point, many protesters forced their way into City Hall, where they burned flags, broke an electrical box and damaged several art structures, including a recycled art exhibit created by children.

She blamed the destruction on a small "very radical, violent" splinter group within Occupy Oakland.

"This is not a situation where we had 1,000 peaceful people and a few violent people. If you look at what's happening today in terms of destructing property, throwing at and charging the police, it's almost like they are begging for attention and hoping that the police will make an error."
Protestors threw rocks and bottles at police, and the police responded by firing tear gas and smoke in order to break up the crowd.
RELATED: Occupy Protesters Arrested Outside Ron Paul Campaign Headquarters In Iowa
Up until recently, Mayor Quan spoke out against police brutality against protestors, but defended actions the police took yesterday, saying "a majority of protestors who were charging the police were clearly not being peaceful."
Have a tip we should know? tips@mediaite.com
Josh Feldman - Senior Editor