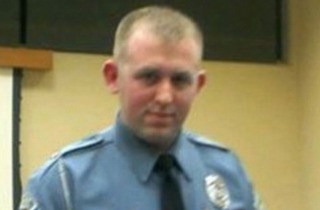 Officer Darren Wilson, whose shooting of an unarmed teenager in Ferguson, Mo., sparked off months of protests and racial tension, somehow managed to get secretly married last month in a nearby town.
Wilson, 28, wed fellow Ferguson police officer Barbara Spradling, 37, in a St. Louis county office building on October 24. According to the New York Times, the building is just "steps away from the courthouse" where the grand jury, who will decide whether to indict Wilson for the death of Michael Brown, is meeting.
What's bonkers about Wilson's wedding is how quietly he did so without attracting any media attention. From the Times:
The couple obtained their marriage license in Clayton, Mo., outside St. Louis, in the recorder of deeds office on the fourth floor of the Lawrence K. Roos administrative building, steps away from the courthouse where the grand jury has been meeting.

While security guards question people going in and out of the building, the deeds office itself is a blandly bureaucratic place where clerks sit in open cubicles. A clerk at the marriage license desk said on Monday that she was surprised that Officer Wilson went there, as opposed to another county or state — possibly Las Vegas, she said — where he could have filled out paperwork with a greater guarantee of privacy.
This is the second marriage for both couples; Wilson finalized the end of his previous marriage of two years in November of 2013.
The grand jury's decision is expected this week, and a state of emergency has been declared in Missouri in anticipation of their decision.
[NYT]
[Image via file]
—
>> Follow Tina Nguyen (@Tina_Nguyen) on Twitter
Have a tip we should know? tips@mediaite.com