With the transition from one presidential administration to another today, one of the things we saw make a full switch-over was the official White House website. Instead of featuring Barack Obama, his wife, the Vice-President and Second Lady and highlighting their biographies and accomplishments, we now are presented with those of Donald Trump, Mike Pence and their spouses.
And when looking at the new First Lady's bio page, one can't help but notice that it almost reads like an advertisement for her modeling and jewelry line.
While listing Melania Trump's accomplishments, the page quickly shifts to highlighting the former model's appearances in various magazines and publications along with naming all of the top fashion photographers she's worked with.
Following a section detailing her philanthropic activities over the years, the bio includes the following short paragraph:
Melania is also a successful entrepreneur. In April 2010, Melania Trump launched her own jewelry collection, "Melania™ Timepieces & Jewelry", on QVC.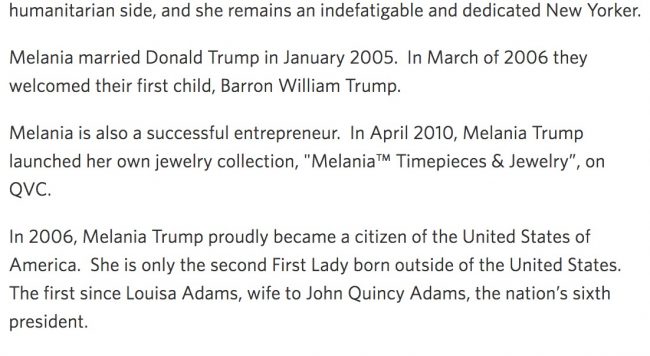 Since winning the election, President Trump has come under fire over concerns over his businesses and how they can create conflicts of interest when he's in the White House. While he has said he's given control over his many businesses over to his two grown sons, he has not divested or liquidated them, and has not set up a blind trust. Many ethics lawyers have argued that Trump will be in violation of the emoluments clause of the Constitution due to his business dealings.
Also, this wasn't the only bit of subtle promotion of family brands that occurred today. During the inaugural parade today, the new POTUS first got out to walk right outside Trump International Hotel, which was along the parade route.
[image via screengrab]
–
Follow Justin Baragona on Twitter: @justinbaragona
Have a tip we should know? tips@mediaite.com