Okay, So What Was the Deal With That Enormous Jacket Tom Brady Wore Yesterday?
So the Patriots beat the Steelers 36-17 in the AFC Championship game on Sunday. It's the seventh AFC title for the Pats since 2001. And now they're bidding for their fifth Super Bowl during that span and blah, blah, blah…
Whatever. Let's get to the real story from Sunday night's game: Tom Brady's sideline jacket.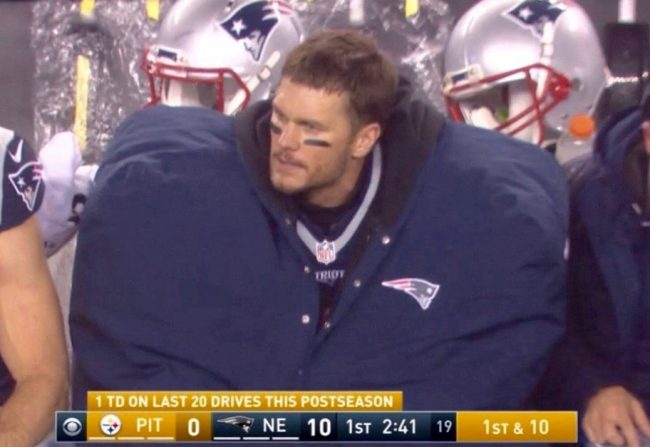 Look at that thing. It's positively gargantuan. He could fit his entire offensive line under there.
Twitter had a field day with this thing. Here's a sampling of the reaction.
Tom Brady looking like three kids in a big coat trying to sneak into an R-rated movie pic.twitter.com/w34josjbKk

— Josh Billinson (@jbillinson) January 23, 2017
Brady deflating balls in that monstrous coat @NFL pic.twitter.com/403TxW51mu

— 13-3 (@CowboysSBChamp) January 23, 2017
#Inflategate pic.twitter.com/zsety7X5DD

— Matt Ufford (@mattufford) January 23, 2017
i want tom brady's coat…for when i have to sit on public transportation and need my personal space pic.twitter.com/NqKBPtNM2R

— The Su is The Su (@the_su) January 23, 2017
Why does Tom Brady's sideline coat look like he's in the cast of Little Rascals? #PITvsNE #TomBrady #IGottaCoatHeyHeyHeyHey pic.twitter.com/vdRbdBHfU7

— Hannah Ostic (@tweetsfromhann) January 23, 2017
Is that Gore-Tex? pic.twitter.com/L3aRV9iDm9

— Sports Illustrated (@SInow) January 23, 2017
"we're not sure how they got the deflated footballs onto the field without being noticed" pic.twitter.com/6bcI64kYGl

— ryan van bibber (@justRVB) January 23, 2017
Tfw ur trying to sneak a bottle of Jack past security pic.twitter.com/pvXzxJNPSP

— Bobby Big Wheel (@BobbyBigWheel) January 23, 2017
I understand playoff tickets are expensive, but Tom Brady is a millionaire, he shouldn't be sneaking people in under his coat. pic.twitter.com/zeOec8YYVm

— Jason Mustian (@jasonmustian) January 23, 2017
— First We Feast (@firstwefeast) January 23, 2017
My first thought when I saw Tom Brady's coat. #NFL #NFLPlayoffs #Patriots pic.twitter.com/gngIaEL5h3

— SCN (@SCN14) January 23, 2017
When you mistakenly put the dryer on high heat pic.twitter.com/myoM55EYtv

— Jemele Hill (@jemelehill) January 23, 2017
"Tom Brady was wearing a normal-sized coat. Period." pic.twitter.com/hjOi8ODgXz

— ಠ_ಠ (@MikeIsaac) January 23, 2017
[image via screengrab]
–
Follow Joe DePaolo (@joe_depaolo) on Twitter
Have a tip we should know? tips@mediaite.com
Joe DePaolo - Senior Editor