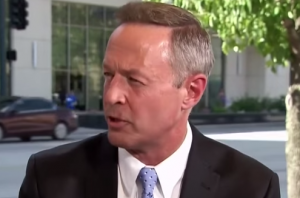 Martin O'Malley came out swinging today in what four out of five political pundits say is the first sign of a pulse during an otherwise lifeless campaign. The former Maryland governor took aim at Donald Trump (calling him a "hate-spewing carnival barker") and at the Democratic National Committee––at a DNC event––for being spineless for only holding a total of six debates and none until October.
Call it the Trump effect, but it appears everyone in the race is trying to pull the same page from the GOP frontrunner's playbook: Come out with a chip on both shoulders, turn up the volume and take on the party establishment. But there was one thing plainly and obviously missing from O'Malley's attempt at bombast:
Anything resembling criticism of the person he's supposedly challenging… Hillary Clinton.
It's simply amazing O'Malley continues to avoid the very topic (the reckless and possibly illegal use of a private email server while Secretary of State) that is bringing Mrs. Clinton down to the point the party is in a panic and a formerly disinterested Vice President is now organizing running against her. Note: O'Malley is polling at two percent. He's almost as ignored as Lincoln Chafee, which is an exceptional feat. And yet he refuses to broach the topic of trustworthiness when it comes to Hillary.
Is it because he's a nice guy? A classy opponent? Or because he doesn't think the aspect of Mrs. Clinton is really a big deal? He should look at Thursday's Quinnipiac poll that asks voters the first unprompted words that come to mind when it comes to the Democratic frontrunner: "liar," "dishonest," and "untrustworthy" were the first three to words chosen. Her unfavorable numbers are above 50 percent. Her untrustworthiness numbers are at 60. But O'Malley won't and can't bring those little tidbits up in an attempt to gain some ground (and show some real fight) because of one simple reason:
He doesn't want to be President O'Malley.
He wants to be Vice President O'Malley.
And you don't get there if you show the untrustworthy one that you're untrustworthy–at least when it comes to being loyal to her alleged coronation–by attacking her one critical weakness when running against her.
So if Martin O'Malley really was pissed off, if he really wants the prize that starts with getting the Democratic nomination, he could broach the elephant in the room once in awhile.
He's not running against Debbie Wasserman Schultz and the DNC…he's running against Hillary Clinton.
Or in this case…running scared of losing a shot at being #2.
You can watch O'Malley taking on the DNC here, via C-SPAN:
Follow Joe Concha on Twitter @JoeConchaTV
Have a tip we should know? [email protected]