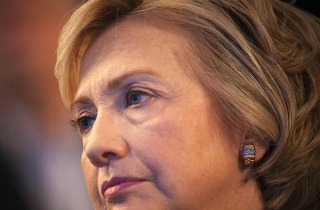 Democratic presidential candidate Hillary Clinton announced today that if elected president, she will put an end to the Cuban embargo. "The Cuba embargo needs to go, once and for all," she said in a speech in South Florida. "We should replace it with a smarter approach that empowers the Cuban private sector, Cuban civil society, and the Cuban-American community to spur progress and keep pressure on the regime."
Missing from far too many stories on the speech is that throughout her entire political career, Clinton was staunchly against lifting the embargo. "In 2000, when she was running for Senate, and in 2008, when she was running for the Democratic nomination, she too took the old-school stance. In December 2007, she said rather clearly that the embargo was the law of the land, and it wasn't going anywhere anytime soon," TIME noted last year, after she openly questioned the embargo in her book Hard Choices.
"Until there is some recognition on the part of whoever is in charge of the Cuban government that they have to move toward democracy and freedom for the Cuban people, it will be very difficult for us to change our policy," she said during a Democratic debate. Hopefully, Clinton isn't naive enough to believe that Cuba actually has made strides towards democracy. And if she does, well, human rights organizations disagree.
No doubt Clinton only "evolved" on this issue on principle, after carefully and objectively weighing the facts without regard for how it might affect her politically. Just like when she "evolved" on:
But purely by coincidence, every single time she's changed her mind, it brought her closer in line with popular opinion and her Democratic base. Isn't that lucky!
In this case, Clinton's opposition to the Cuba embargo comes about– again, coincidentally– after the politically critical Cuban-American population has largely changed their mind on the issue. In 1994, Cuban-American support for the embargo was so strong in the Florida exile community that her husband was forced to codify the embargo in order to win the swing state. Many political observers believe that Bill's handling of the Elian Gonzales situation handed George W. Bush the less than 1000 votes he needed to win the state in 2000.
In 1991, a whopping 87% of Cuban-Americans supported the embargo. But since then, many of the first-generation Cuban-Americans who actually fled Castro have died off, only to be replaced with millennials who have never even seen their homeland. Now 57% of Cuban-Floridians said they were somewhat or very likely to vote for someone who wanted to lift the Cuban embargo, including 75% of young Cubans-Floridians.
In short, Clinton's change of heart has luckily occurred just as the issue ceased to be politically poisonous in a crucial swing state.
But setting aside the general election, Clinton's newfound position will also likely resonate among her Democratic base. Clinton is of course slowly losing ground to Vermont Senator Bernie Sanders, whose openly "democratic socialist" beliefs are draining Clinton's support among more liberal Democrats. As Sanders continues to strip away Clinton's liberal base, she needed to take a stance on an issue that will demonstrate for primary voters her liberal bona fides.
And what better way to out-liberal a socialist, than to kowtow to Communists?
[Image via Shutterstock]
——
>>Follow Alex Griswold (@HashtagGriswold) on Twitter
Have a tip we should know? tips@mediaite.com