Oneida Indian Nation Calls Daily Caller Attack on Leader 'Bigotry at its Worst'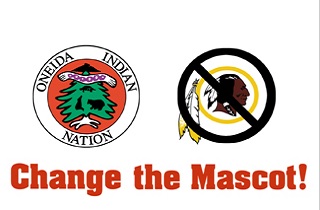 On Monday, The Daily Caller published a story questioning the purity of Oneida Indian Nation Representative Ray Halbritter's Oneida lineage. A spokesman for the Oneida Indian Nation, which has vocally criticized the Washington Redskins for their use of a racist moniker, has responded to the story, telling NBC's ProFootballTalk blog that "this attack on a respected and recognized Native American leader whose family members were killed because of their race is bigotry at its worst and shocks the conscience."
Supporters of the Redskins name have never been shy about using Indian voices to boost their case, even falsely, but their reaction to criticism from Native Americans is quite a bit different. From Wonkette:
Wow, today must be Daily Caller Debunks Everything Badly Day! Not only has Tucker Carlson's Home For Angry White Men exposed Cory Booker as a carpetbagging friend of predatory raccoons, it has also completely blown the credibility of "The American Indian leader spearheading the campaign to change the name of the Washington Redskins" (see what they did there?) by revealing that Ray Halbritter, who has made numerous media appearances to call for the name change, is "not a legitimate member of the tribe he leads," but rather "an Obama crony who is raking in casino money and paying back only small stipends to his tribe members." We're still trying to puzzle out how those two categories are mutually exclusive, and why the uber-capitalists at Daily Caller suddenly don't like an exploitative jerb creator, but we mostly just wanted to call attention to the hilarious heading that the DC used to promote this story in their morning email: "RED-Handed! Documents: Anti-Redskins Indian leader not a legitimate member of his tribe." Excellent work, Daily Caller – glad to see you won't stand for these fake Injuns and their outrageous race-bating.
The DC's story hinges on research into the Indian Census Rolls, which is how white people kept track of the Indians they herded into reservations. Oneida Indian Nation VP of Communications Joel Barkin noted the cruel irony in his response, via PFT's Mike Florio:
"The formula for this particular kind of prejudice is as old as it is offensive," Barkin told PFT by email.  "First Native peoples were forcibly removed from their lands, then they were herded onto reservations, then they were dehumanized as mascots, and now the most committed bigots of all pretend their leadership's ancestry and heritage doesn't even exist.  While the fact an NFL franchise is using a name that is defined as a racial slur is bigger than any one person, the nature of this attack on a respected and recognized Native American leader whose family members were killed because of their race is bigotry at its worst and shocks the conscience."

Barkin also forwarded to PFT an excerpt from a judicial opinion in which Senior U.S. Judge Frederick Scullin, appointed to the federal bench in 1992 by President George H.W. Bush, slammed the door on ongoing attacks against Halbritter's legitimacy as Oneida Indian Nation leader.
Set aside The DC's cutesy race-baiting and ham-fisted scrutiny of the purity of minority blood, none of this has any bearing on the relative racism of the Redskins name.
[photo via screengrab]
Have a tip we should know? tips@mediaite.com