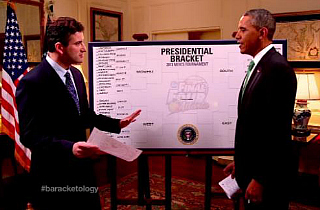 Sorry to burst your bubble, Mr. President — we don't want your 2014 NCAA bracket picks. No, it's not personal. But, yes, you should take our hard court confession seriously.

In honor of Selection Sunday, here are sixteen sweet reasons to keep you, Barack Obama, from cutting in on America's Big Dance:
1) You're really busy.
2) You only take frontrunners. Seriously, Mr. President, can't you give NCAA fans a little Providence Friars action? Nothing is worse than a chalk bracket enamored with the 1%.
3) You will scream "OVERTIME…NO!" The Labor Secretary will be confused.
4) America hates Duke. The love for Reggie Love makes you a certified Dukie, but it only makes us blue. FYI, America also hates Rick Pitino and John Calipari. You'll likely pick them too.
5) You are inviting the media headache. Zach Galifianakis brought you Internet infamy—this just in, ESPN has a few more visits per day than Funny Or Die. When Bill O'Reilly says, "Abraham Lincoln wouldn't fill out a bracket," don't say we didn't warn you.
6) There's a good chance you will say Wichita State's nickname on air. And there is a better chance it will go viral. "I really like the Shockers down South" is a GIF gift from the Gods.
7) If you pick against Syracuse…? Joe Biden will throw a frozen orange through your window. It's as certain as when you give a mouse a cookie.
8) Silly people will analyze the politics behind your bracket. Happens with everything else.
9) A reminder to enemies of your left-handedness. Putin will surely expose this genetic weakness with a show of right-handed strength. Also, your handwriting is a little sloppy.
10) Your brother-in-law will be grumpy you didn't write-in his Oregon State Beavers. Thanksgiving won't be fun.
11) Speaking of Michelle, she won't run with this. Here you are encouraging buffalo wing-slinging, degenerate gamblers to sit on their couches for an entire month and cheer on the athletic activity of others. Let's move? Not in the bedroom.
12) The only commonality you share with college athletes is that ESPN will make money off of you.
13) When you share the ins and outs of obscure teams, it makes us wonder when/if you work.
14) Again, you're busy. Like, leader of the free world busy.
15) Let's face it: There's far graver madness this March.
16) What's the best-case scenario? Thousands of people joke about how the president finally got something right.
OVERTIME: Oh, and you stink at it.
On second thought… if you're perfect, a billion dollars from Warren Buffett would go a long way towards taking a chunk out of the national debt.
— —
>> Clark Young is, above all things, a Mainer and Red Sox fan. Follow him on Twitter here.
Have a tip we should know? tips@mediaite.com