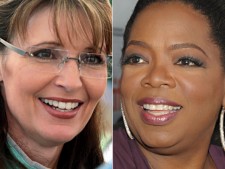 The eagle has landed! Translation: the Sarah Palin, Oprah Winfrey interview is a wrap. The much-anticipated sit-down between the talk show queen and the former VP-contender was taped yesterday in Chicago. Later in the evening Palin posted this update to her Facebook page:
Willow, Piper, and I are in Chicago and just wanted to let you know that I had a great conversation with Oprah today. We taped the show for Monday, November 16th, and enjoyed it so much that we went way over on time. The rest will air on Oprah.com. Oprah was very hospitable and gracious, and her audience was full of warm, energized and (no doubt) curious viewers.
Sounds promising. Meanwhile, Oprah posted her own update on the "interesting" interview via video (below), noting that "lots of people didn't want me to have her on, lots of people did. Lots of her supporters didn't think she should come here, but she did." According to Oprah, the subjects covered include the campaign, Bristol, Trig, the Palin marriage, and Levi Johnston. Says Oprah: "We talked about everything, there's nothing we didn't talk about." (Maybe she used our earlier post as a primer.)
It will be interesting to see what tone this interview takes. Oprah can be tough when she wants to, but I wonder if she won't also demonstrate a great deal of empathy to Palin as a powerful woman seemingly under siege from a number of sides. It will also be interesting to see whether Palin makes any fresh headlines over the next few days now that the interview has been completed.


Have a tip we should know? tips@mediaite.com