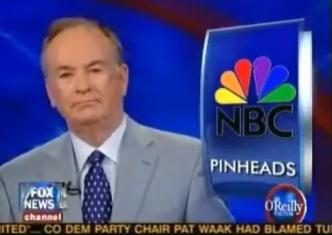 Bill O'Reilly weighed in on several of the stories we've written about here this week last night on The O'Reilly Factor.
And some of the ways he addressed the big stories of the day – the passing of Sen. Ted Kennedy, his ongoing feud with Keith Olbermann and the Glenn Beck boycott – may surprise some people.
Yesterday we wondered if O'Reilly would "shame commenters bashing Kennedy," and Joe Coscarelli guessed, "It seems doubtful." Well – O'Reilly did just that. "Unfortunately there have been some vicious posting on the internet about Senator Kennedy, and they are disgraceful," he said. "If you are a religious person, you know the bible states quite clearly that personal judgments should be made by God and God alone. All of us are flawed, and none of us have the right to demean a public servant who just died."
This is classic O'Reilly – take the high road, but by not making "personal judgments," he can introduce all aspects of the Kennedy legacy, both good and bad. Overall, O'Reilly was gracious, dubbing Kennedy a "patriot," which in the No-Spin Zone, is about as good as it gets. Here's the clip:


So while Kennedy was a patriot…NBCU President Jeff Zucker was a "pinhead." Really though, Zucker just served the role of place-holder for Olbermann. This comes on the heels of an Olbermann personal attack on the FNC host that we thought O'Reilly wouldn't respond to. But he did. "Last night on MSNBC, someone said the people, you guys, who watch Fox News are paranoid and racist," said O'Reilly. "Pinhead, doesn't begin to cover it."
This is about as close to saying the words "Keith Olbermann" O'Reilly has gotten to – and the MSNBC host is likely to love the attention. While our predictions haven't been right recently, look for an O'Reilly mention on Countdown tonight.


And finally, O'Reilly had Glenn Beck on to chat about the boycott against him. In reality, it served mostly as a way for the 5pmET host to gain more exposure for his "special" this week.


Have a tip we should know? tips@mediaite.com