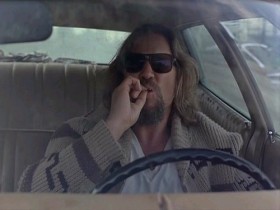 Congratulations to Jeff Bridges on his Academy Award nomination for Best Actor for Crazy Heart! He's looking like the guy to beat this Oscar night, along with Sandra Bullock for The Blind Side (yes, I think she'll take Meryl), Christoph Waltz for Inglorious Basterds and Avatar in various categories involving giant blue kitties. But let's take a moment, shall we, to celebrate along with a whole slice of fans who not only think he deserves this award, but think he deserved it 11 years ago for his most…abiding role: That of "The Dude" in The Big Lebowski.
Don't be fatuous, you say? It's true! After his Golden Globe win for Best Actor, Twitter exploded with "the Dude abides" references, and where do you think I got this picture? Fans gather every year for a convention; some even take it to the point of religion. (But that is as ridiculous as promising someone to get a toe to them by 3 p.m. — with polish.) Even those who don't roll on Shabbos agree: In a career of memorable roles — for which he has oft been nominated but only this year finally crowned — Lebowski is a standout, and probably the standout. In his "Decade Awards" last year, our own Jonathan Glick took to Twitter to call for nominations for the best films of a decade before the current Oscar crop to see which had held up, and out of a crop including Life Is Beautiful, Rushmore, The Thin Red Line, and then-Oscar winner Shakespeare In Love, Lebowski was the People's Choice for the winner. Justice, it seems, is a dish best served extremely cold — but with a reheat option. I don't really know what that means, other than — congratulations Jeff Bridges! I hope this leads to lots of money, so you can go buy yourself a rug that really ties the room together.
In other news, the expanded "Best Picture" category this year is dumb. The inclusion of District 9 feels like a weird summer anachronism, even though it made you think longer afterward than Avatar, but neither of them had the Best Picture magic in my humble opinion, where you are obsessed with the movie and Google it and keep bugging your friends to see it so you can talk about it (cough Inglorious Basterds). Then again, I haven't seen Up. But this would be my list:
Hurt Locker
Inglourious Basterds
Precious
A Serious Man
Up In the Air
Not that anyone's asking me. Except you, Internet. Thank you.
Have a tip we should know? tips@mediaite.com