Outrage Grows After NFL Player Posts Graphic Image of Cop Having Throat Slit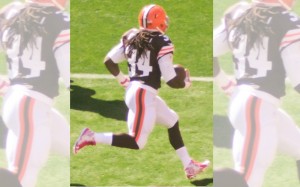 On the depth chart for the Cleveland Browns, Isaiah Crowell is the franchise's number one Running Back.
He was the leading rusher for the Browns in 2015, and recently the team's head coach Hue Jackson remarked that the upcoming season would be "sensational" for Crowell, the 23-year-old University of Georgia product.
This isn't what Coach Jackson had in mind.
A firestorm of controversy is brewing after Crowell posted — then predictably deleted — the following graphic image to his social media following the shooting deaths of Alton Sterling and Philando Castile last week: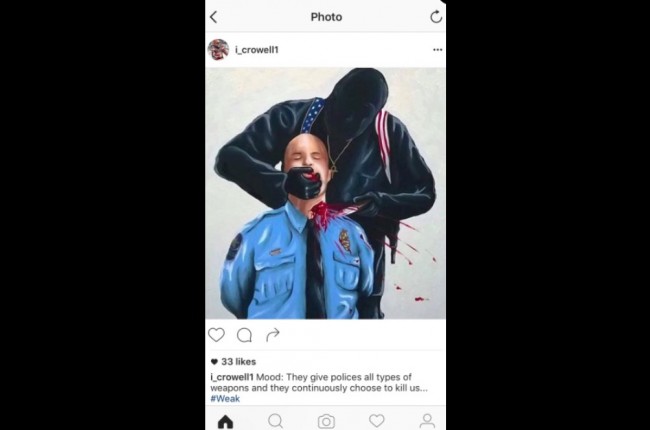 It included the caption, "They give police all types of weapons and they continually choose to kill us….#Weak."
Crowell took to Twitter to offer his apology, which reaks of a tightly-written PR response scribed by someone within the Browns organization:
— Isaiah Crowell (@IsaiahCrowell34) July 11, 2016
NFL spokesman Brian McCarthy said, "The image was inappropriate and insensitive… [Crowell] realized this, took down the post and has since apologized."
But in a rarely-seen twist, it is now the Browns organization — not the league — that is using far harsher language to call out one of its own:
"We have spoken to Isaiah regarding his extremely disturbing and unacceptable social media decision. It was completely inappropriate and we have made him aware of our high level of disappointment. Isaiah has apologized but also knows that just an apology is insufficient and that he must take steps to make a positive difference after a very negative and impactful post."
While it is unclear exactly what those "steps" will be, the Cleveland franchise is looking to communicate to fans that Crowell's actions will not be tolerated under any circumstances. According to Cleveland.com, the image was posted following the Sterling and Castile deaths, but before five police officers were slain in Dallas last Thursday night.
Despite the apology from the star running back and the move of the organization to harshly rebuke his actions, many are calling on the club to take further disciplinary actions.
.@Browns RB Isaiah Crowell posted a picture of a police officer having his throat slit. Who else thinks he should be removed from the team?

— DawgPoundNation.com (@DawgPoundNation) July 11, 2016
.@Browns must fire #IsaiahCrowell ASAP, and @NFL must ban him for life.

— John Cardillo (@johncardillo) July 11, 2016
I'm calling for the @Browns to do the right thing & cut Isaiah Crowell. The image he posted on Instagram was wrong & unacceptable #Browns

— Dino Vitanza (@dsergiov) July 11, 2016
@IsaiahCrowell34 You showed your true colors with your pathetic post. You don't deserve to wear the Browns colors.

— Steve Anderson (@evetSAnderson) July 11, 2016
@IsaiahCrowell34 oh God are you piece of shit. So many cops protect your ignorant ass. The #Browns should dump you. #SupportPolice

— Fuckin' Rambo 216 (@strongforte) July 12, 2016
@IsaiahCrowell34 not acceptable. You should be cut immediately

— Rich Hanes (@BurnRiverSports) July 11, 2016
@IsaiahCrowell34 damage control bullshit! You are supposed to be a role model. You're only sorry because of the backlash from fans.

— Lori (@lajp0623_g) July 12, 2016
This morning, Crowell released the following video offering his apology in his own words. "I posted a really disgusting, bad picture and I took it down immediately because I knew I was wrong," says Crowell.
Will Crowell face more serious repercussions for his social media flap? Unlikely. In addition to being the workhorse for the team's offense and likely an every-down back at his position, the team touts game-worn gear from the 23-year-old that retails for $749 in the Browns team shop. Although Cleveland is a city that is immensely proud of its sports heritage (hello NBA championship), it doesn't seem like the controversy is going to blow over anytime soon. The start of the NFL regular season is still two months away. But, the sad reality is that winning in professional sports is the cure to all ills… although the Browns finished an abysmal 3-13 last season, what happens if Crowell helps lead the charge to a winning season in the AFC North?
—
J.D. Durkin (@jiveDurkey) is an editorial producer and columnist at Mediaite.
[Featured image via Wikipedia Commons]
This is an opinion piece. The views expressed in this article are those of just the author.