Pam Geller is Convinced That Hillary Clinton and Huma Abedin Are Definitely 'Lesbians'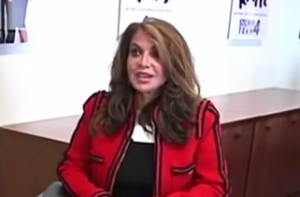 Pamela Geller is a unique force in our culture because she manages to be reviled by as many on the right as she is on the left. In fact, the right seems to have even more disdain for her since she gives them a bad name, in their opinion. She has her beefs with the media, too, even us. Still, her latest interview, on The Bernie and Sid Show, she had no problem opening up to the media with a theory of hers.
While talking about Bill Kristol and the "renegade Jew" thing, she laughed off the idea that a Hillary Clinton presidency could even be compared to a Donald Trump presidency when it comes to the protection of Israel. When she was reminded that Clinton's closest aide is a devout Muslim, she had plenty to say.
"And the connection to Huma Abedin cannot be understated. Her parents are Muslim Brotherhood … come on, we know all about that. For years and years I wrote about that relationship…"
"Are you implying she's a lesbian?" one of the hosts asked.
"…a long-rumored affair, for eight or nine years, way even before the Obama presidency!" she finished up.
Perhaps Clinton's affection toward Muslims stems from her love of Abedin, then? Or maybe she just agrees with Geraldo Rivera, Laura Ingraham, and Bill O'Reilly that it's not right to generalize that all followers of Islam are terrorists and jihadis.
[image via screengrab]
For more from Lindsey, go to Twitter or Facebook.
Have a tip we should know? tips@mediaite.com