PETA Asks Obama To Stop Turkey-Pardoning Ceremony, Compares Turkeys To Minorities
PETA Asks Obama To Stop Turkey-Pardoning, Compares Turkeys To Minorities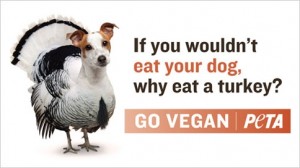 It's Thanksgiving time, and you know what that means! Time for PETA to send a letter to the White House asking that President Obama puts a stop to the annual tradition of pardoning a turkey, and even going so far as to compare the rights of turkeys to the rights of oppressed minorities.
RELATED: PETA 'Taking Bets' On When Sen. Grassley 'Will Succumb To… Meat-Related Disease'
PETA sent out a letter to the Obama administration earlier today saying that the turkey-pardoning ceremony "makes light of the mass slaughter of some 46 million gentle, intelligent birds." PETA president Ingrid Newkirk says this is the first time they have ever directly petitioned the White House about the ceremony itself, and criticized Obama for being a supposed "progressive standing there with an industry representative of factory farming."
The above image was used as part of PETA's campaign to get people to go vegan on Thanksgiving, arguing that you would never eat a poor, defenseless little puppy, so why would you eat a turkey.
In the letter, Newkirk compares the struggles of turkeys to the long history of minority groups being oppressed in the United States.
"You understand so well that African-Americans, women, and members of the LGBT community have been poorly served throughout history, and now I am asking you to consider other living beings who are ridiculed, belittled, and treated as if their sentience, feelings, and very natures count for nothing."
Newkirk adds that if the ceremony is not struck down altogether, they should at least stop calling it a "pardoning," because "the bird has done nothing wrong."
h/t TODAY
—–
Follow Josh Feldman on Twitter: @feldmaniac
Have a tip we should know? [email protected]
Josh Feldman - Senior Editor