Piers Morgan Calls Ewan McGregor a 'Pedophile-Loving Hypocrite' For Snubbing Him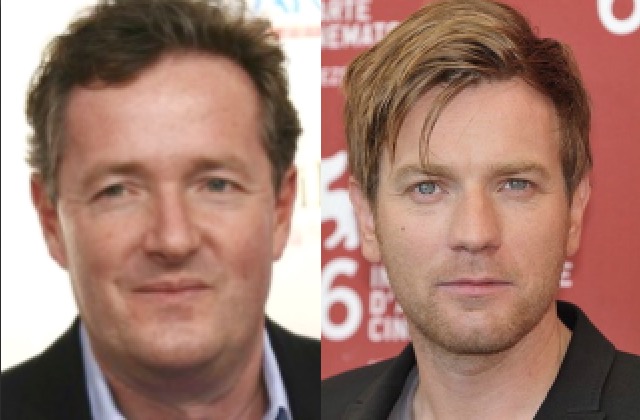 Actor Ewan McGregor and Daily Mail editor Piers Morgan are currently locked in a fight over Morgan's comments disparaging the Women's March on Washington this past weekend.
Morgan courted controversy this weekend when he dismissed the "vacuous" protests and said they were being led by "rabid feminists":
I'm planning a 'Men's March' to protest at the creeping global emasculation of my gender by rabid feminists. Who's with me?

— Piers Morgan (@piersmorgan) January 21, 2017
This was quite different from McGregor's perspective on the march, which he made clear with this show of support:
I'm with you in spirit today women of the world. My daughters are marching. I'm so proud to see this extraordinary power.

— Ewan McGregor (@mcgregor_ewan) January 21, 2017
As it happens, Morgan is currently co-hosting Good Morning Britain, and he booked McGregor on his Tuesday show to talk about his upcoming sequel to the cult classic film: Trainspotting. McGregor found out about Morgan's comments about the Women's March, however, so he announced that he was dropping the interview.
Was going on Good Morning Britain, didn't realise @piersmorgan was host. Won't go on with him after his comments about #WomensMarch

— Ewan McGregor (@mcgregor_ewan) January 24, 2017
Morgan took notice of this while he was still on air, and he scolded McGregor while noting that he invited him on to talk about the movie. Morgan also suggested that McGregor should've come on to debate him if he took offense to the comments.
As you may have heard, @mcgregor_ewan stood us up today because of @piersmorgan – and here's what he had to say about it…@susannareid100 pic.twitter.com/aarr2rb0r7

— Good Morning Britain (@GMB) January 24, 2017
Later on, Morgan penned a column where he immediately tore into McGregor by calling him a "pedophile-loving hypocrite" who refuses to engage someone who holds different socio-political viewpoints:
"Had we done the interview, I might have asked him how his heroic support for women justified him working for director Roman Polanski, a self-confessed and convicted child abuser, on the film, The Ghostwriter…By refusing to be interviewed by me simply because I have a different opinion about a political march, McGregor revealed himself to be a narrow-minded, stupendously self-aggrandising, anti-democratic little twerp."
Roman Polanski is a French-Polish filmmaker who fled the U.S. in 1978 after he plead guilty to charges of "unlawful sexual intercourse" with a 13-year-old girl. The Independent notes that McGregor has commended Polanski's directing ability in the past, though he has refrained from talking about Polanski's legal issues.
[Image via screengrab]
— —
>> Follow Ken Meyer (@KenMeyer91) on Twitter
Have a tip we should know? tips@mediaite.com