Sarah Kendzior has an insightful piece up at POLITICO Magazine about the clickbait-ization of the images from Kiev, arguing we are only able to engage with tumults like the one in Ukraine when its violence can be rendered in recognizable forms such as the listicle—she calls it the "apocalypsticle," reserving particular ire for BuzzFeed's version.
Which is a fair point. But here's where Area Internet Writer searches "POLITICO Ukraine" and notes that results three and four are apocalypsticles, one from POLITICO Magazine and one from the flagship site. They're called "galleries" and "photo-essays" in real-journo speak, and instead of headlines like "Nine Shocking Photos from Violent Protests in Ukraine" you get the (mildly?) more restrained "Ukraine's Song of Ice and Fire." Les screencaps: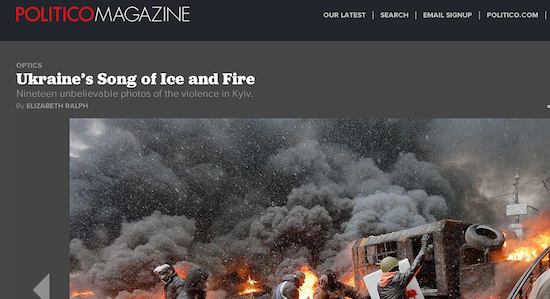 PM's apocalypsticle is interpolated with commentary from AP photographers on the ground in Kiev, which appears to be the level of contextualization for which Kendzior is calling. But POLITICO's "gallery" has as little text, if not less, than the others that Kendzior denounces. You'd be more informed, for instance, flipping through Huffington Post's "Ukraine Crisis: 12 Apocalyptic Pictures After Nation's Deadliest Day" than POLITICO's equivalent piece. POLITICO's "gallery" is even categorized in a section called "Optics," a tacit admission that news events have a visual dimension that need not always be bracketed by prose.
Meanwhile, Kendzior points the reader toward More Serious Sites for beefier reporting. No doubt, but here's where Area Internet Writer finds the New York Times' Ukraine gallery, though the Gray Lady calls it "Pictures of the Day." There, the Kiev photos are combined with those from Thailand and India, with a line of caption each. How did Kendzior put it? "Today we are watching Ukraine, but we might have been watching Thailand, or Venezuela or Egypt. The place itself doesn't really matter, as long as there is fire and blood." She, of course, was talking about BuzzFeed.
[Image via Efrem Lukatsky/AP]
——
>> Follow Evan McMurry (@evanmcmurry) on Twitter
Have a tip we should know? tips@mediaite.com