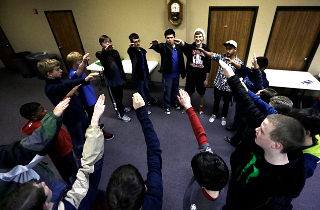 See what I was just saying about Nazis a few minutes ago? The latest reference comes from a widely-shared story about a splinter group of the Boy Scouts of America called Trail Life, who are seen photographed on the left making what looks an awful lot like the old Nazi bro-fist at one of their meetings. Yikes.

The Texas group, started by Ron Orr, is a reaction to the the Boy Scouts' recent decision to allow gay members. Orr believes that his faith prohibits he and his sons from fraternizing with filthy gay sinners:
So Orr and his son left BSA and set out with other families to build a new organization based on what they believe to be Christian values. Orr is a regional organizer who speaks to churches and groups about Trail Life. His son now aspires to achieve a Freedom Award, the new group's highest rank.

The Orrs and others in Trail Life say they are fighting for the traditional values of Christianity and of Scouting, which includes a command in the Scout Oath to be "morally straight" — even as a changing America grows more accepting of gays and gay marriage. They are leaving an organization central to many of their upbringings with heavy hearts, but also with the belief that the Scouting they knew no longer exists.

"As Christians from a scriptural basis, we love all folks, but the Scripture is very clear that being homosexual is a sin," Ron Orr said in an interview. "We've got to be able to hold a strong line and set a consistent example for our young men."
What they lack in a sense of irony — the Freedom Award seems a little cognitively dissonant there — they more than make up for in their even worse lack of a sense of history.
Or maybe not.
It could be a direct reference to the Nazi salute, or it likely could be simply a poorly-timed photograph. UPDATE: As the caption notes, "Trail Life members move their arms as they sing "Taps" in a circle during a meeting in North Richland Hills, Texas," so it is, after all, a dance move.
Hitler used to tell an anecdote about his adoption of the Nazi salute. It was, like many greetings throughout history, meant as a show of friendship, as if to say, "Look, I have no weapon in my hand." In the case of Orr and the Trail Life gang it's somewhat similar, except it's not a gun they're worried about each other gripping.
[Photo via LM Otero / AP]
— —
>> Luke O'Neil is a self-loathing journalist and blogger in Boston whose work has appeared in Esquire, Slate, The New Republic and many others. Follow him on Twitter (@lukeoneil47).
Have a tip we should know? [email protected]