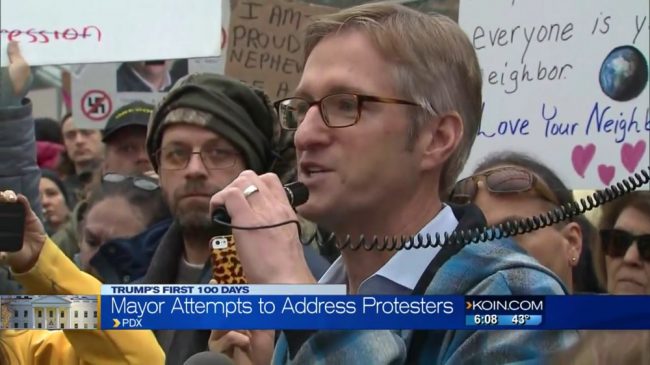 Ted Wheeler, the mayor of Portland, Oregon, is apparently unaware of the First Amendment's protection of all political speech — including "hate speech" — as he is calling on the federal government to revoke the event permits of two rallies that will be held on a plaza adjacent to the federal building there.
Wheeler posted a statement on Twitter that was divided between three posts, which called on federal authorities to act "immediately" to prevent the "alt right events" in early June. The Democratic politician cited the recent murders of two people on a train in the Oregon city.
(2 of 3) pic.twitter.com/RYlq1SdP7b

— Ted Wheeler (@tedwheeler) May 29, 2017
CNN quoted a separate statement from Wheeler for their Tuesday article on the controversy.
"My main concern is that they are coming to peddle a message of hatred and of bigotry," Wheeler told reporters, referring to organizers of the two rallies. "They have a First Amendment right to speak, but my pushback on that is that hate speech is not protected by the First Amendment to the United States Constitution."
This is not an uncommon claim on the left side of the political spectrum. Just days earlier, a Huffington Post writer also contended that "hate speech" wasn't protected by the Bill of Rights, and her own editors had to issue a correction: "An earlier version of this story indicated that the First Amendment never protects hate speech. It does."
The ACLU's chapter in Oregon also rebuked Mayor Wheeler in a series of Twitter posts on Monday.
1. The government cannot revoke or deny a permit based on the viewpoint of the demonstrators. Period. https://t.co/P9gcNPAumH

— ACLU of Oregon (@ACLU_OR) May 29, 2017
5. We are all free to reject and protest ideas we don't agree with. That is a core, fundamental freedom of the United States.

— ACLU of Oregon (@ACLU_OR) May 29, 2017
6. If we allow the government to shut down speech for some, we all will pay the price down the line.

— ACLU of Oregon (@ACLU_OR) May 29, 2017
This isn't the first time in recent days that there has been been resistance to the exercise of free speech in Portland. Just over a month earlier, the organizers of an annual parade in the Oregon city had to cancel it after far-left activists threatened to disrupt the event due to the presence of the local chapter of the Republican Party.
CNN also interviewed an organizer of one of the rallies in their Tuesday write-up. Joey Gibson, who is spearheading the "Trump Free Speech Rally Portland" rally planned for June 4, 2017, condemned the suspect in the recent murders: "Jeremy Christian has nothing to do with us. He hated us, he threatened me….We didn't want him with us."
Gibson also pointed out that he isn't "alt-right," contrary to Mayor Wheeler's claim: "When someone can explain to me what alt-right means, I'll answer it. I'm a libertarian. I'm not right wing, I'm for gay marriage, I'm against the drug wars."
The rally organizer also revealed to the cable news outlet that he had no intention of canceling the event: "If I cancel this rally and we don't have a permit, you're talking about hundreds of people just showing up in the park with no leadership, no voice of reason."
[image via screengrab]
Have a tip we should know? tips@mediaite.com