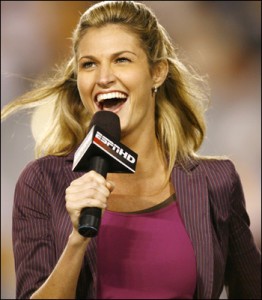 Though the Power Grid is often a lesson in maintaining influence over time (see: Anna Wintour), due to its automated algorithm, movement in the ranks can often be traced directly to a piece of news or media event. In this sense, it serves as a barometer for any given category, and it's not the movement that is interesting in and of itself, but the reasons behind it.
This week, Erin Andrews is a perfect example. The ESPN sideline reporter got a taste of justice when the man charged with surreptitiously taping her through a hotel peephole was arrested with help from TMZ. That burst of breaking news — combined with the start of the football season — sent Andrews skyrocketing from #43 among TV Reporters all the way to #2, with her TV Airtime at #4, News Buzz at #4 and Blog Buzz at #1. Also enjoying the beginning of the NFL season is former Giants player and current football pundit Tiki Barber, who went from #7 to #4 in the TV Pundit category.
Other huge jumps, thanks to more prolonged successes, include Steve Harvey, from #76 to #6, thanks to a current comedy tour and the continued success of his book Act Like a Lady, Think Like a Man, which has spent 32 weeks on the best-sellers list. He maintains a top ten spot in Google, news and blog buzz and is #4 in Twitter followers among TV reporters. Meanwhile, Meghan McCain leapt from #29 to #9 among TV Pundits with her airtime and Twitter followers constantly on the rise.
Time's Rick Stengel went from #5 to #3 thanks to continued buzz from his interview with Iranin president Ahmadinejad, while Print/Online Reporters also experienced a shake-up, with Ezra Klein seizing the #1 spot due to his dominant blog buzz and Jennifer 8 Lee going from #6 to #2, maybe due to her City Room blogging at the New York Times about the Letterman scandal. Their rises sent last week's #1, Dana Milbank, down to #4, while Dr. Sanjay Gupta — up last week thanks to his swine flu — fell from #4 to #7. There's no staying power in sickness, it seems.
Check out the entire set of rankings here.
Have a tip we should know? tips@mediaite.com