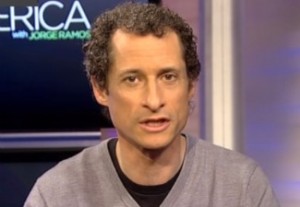 When Anthony Weiner, of all people, joins your PR firm, you should probably just quit now. That's evidently what went through the mind of Arthur Schwartz, a top executive at MWW, who recently threw in the towel, according to a report in the New York Post.
Schwartz, the Post notes, is a 43-year-old (now-former) senior vice president and managing director of MWW's corporate communication — a position he held for almost a year. According to the Post, Schwartz was "one of the few Republicans at the Democratic-leaning firm."
The disgraced former congressman, you'll recall, had to resign from his congressional seat in 2011 for sexting with women who were not his wife, accidentally posting one of the photos on Twitter and then lying about the ordeal. Then, while running for mayor in New York City, he had to bow out of the race after it was revealed that he hadn't learned his lesson and was doing the same thing again with women online under the pseudonym "Carlos Danger."
So, naturally, a big-time public relations firm hired him back in July.
What set Schwartz off, according to the Post, was that Weiner kept using his Twitter account to post "snarky put-downs of Republicans." Schwartz actually public vented that frustration on his own Twitter account, replying directly to Weiner's jab at Republican presidential candidate George Pataki just a couple weeks ago.
In unrelated news, @GovernorPataki is a man of honor and integrity, and you're . . . well, you're @anthonyweiner No explanation necessary

— Arthur Schwartz (@arthurschwartz) August 28, 2015
Schwartz's business associates were "uncomfortable" with Weiner, a Schwartz associate told the newspaper. "Corporations don't want the image of working with a firm that is affiliated with Anthony Weiner," O'Brien Murray added.
.@jencarr_jen People I worked with @MWW_PR are intelligent & have integrity; I remain friends with them. Simply a difference of opinion

— Arthur Schwartz (@arthurschwartz) September 14, 2015
[Image via screengrab]
— —
Have a tip we should know? [email protected]