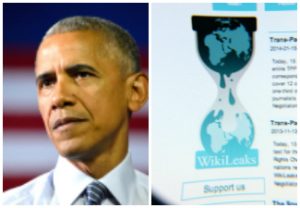 Going through the gauntlet of WikiLeaks emails from Hillary Clinton campaign chairman John Podesta's hacked email account is like frantically trying to shovel water out of a boat with a gaping hole.
The sheer volume and magnitude of the content—much of which requires in-depth investigation and follow-up—can keep any of today's doing-75-things-at-once journalists under water.
And that's how President Obama wants it to remain.
Benefiting from the intense focus on the revelations swirling around the Democratic nominee and her campaign loyalists, Obama has largely escaped media scrutiny even though the leaks have exposed his hope and change DNA as a complete facade.
At the same time Obama was stumping around the country in 2008—enthralling crowds through his rhetorical charm and foreshadowing of a post-partisan, new kind of politics—his campaign was enlisting a Citigroup executive to suggest and vet members for his cabinet and White House staff.
How's that for hope and change?
The executive, Michael Froman, who is now Obama's U.S. Trade Representative, was in regular contact with Podesta, sending a thorough list of establishment and Wall Street figures Obama could insert into his post-partisan palace to help join the fight against those greedy bankers that brought down the economy.
Of course, many on the suggested list were said greedy bankers who destroyed the economy.
Along with Froman's picks, he played a quasi-cabinet-matchmaker, while, of course, avoiding being "presumptuous."
"At the risk of being presumptuous, I also scoped out how the Cabinet-level appointments might be put together, probability-weighting the likelihood of appointing a diverse candidate for each position (given one view of the short list) and coming up with a straw man distribution."
Unsurprisingly, Obama's White House looked nearly identical to the list Froman sent Podesta: Eric Holder, Robert Gates, Arne Duncan, Kathleen Sebelius, Timothy Geithner, Larry Summers, and Janet Napolitano were some of the names Froman suggested who joined the Obama administration.
Yup, as the majority of Americans got caught up in the rainbows and sunshine Obama was drawing—including yours truly—business as usual reigned supreme behind closed doors.
Not only did Froman suggest his friends for team Obama, he also served as a clearing house for eager applicants. In October, 2008, Don Beyer, a longtime Democratic Party operative who served on the 2008 DNC convention credentials committee, reached out to Froman, pitching himself for a "significant position in the much-hoped-for Administration of President Barack Obama."
Froman forwarded the pitch to Podesta. Beyer landed a role as Obama's ambassador to Switzerland and Liechtenstein. He's now a Virginia Congressman.
And Obama himself was fielding staffer recommendations from Froman, who sent the then-Senator a list breaking down candidates by culture, race, and gender.
Fast forward to the 2016 campaign, and the facade that Obama stayed neutral in the Democratic Primary has also been exposed.
In the latest batch of emails released Wednesday, Clinton campaign staffers plotted on how to push the president to make positive public statements about Clinton in the buildup to his hometown Illinois' primary.
Podesta told outside adviser and obsessed-with-Hillary president of the Center for American Progress, Neera Tanden, to "push Valerie [Jarrett] a little."
Tanden responded, revealing that Clinton's campaign held a conference call with "Obama folks" weeks before.
"How about a joint statement from many of the Obama folks you guys did the call w a few weeks ago?"
Even if we provide benefit of the doubt—that she wasn't referring to actual Obama administration members speaking with the Clinton campaign via conference call during the still-in-progress Democratic primary—the email clearly shows the Clinton campaign has Obama's people on speed dial and knows they can "push" senior advisers like Jarrett to help their efforts.
Another email from March of this year shows the CEO of an organic yogurt company pushing Podesta to directly convince the White House to take action on a GMO labeling bill in order to prevent Sanders from getting a leg up on Clinton.
"It will be terrible to hand Sanders this advantage at such a fragile time when we really need to save our $$$ for the Trump fight," Stonyfield CEO Gary Hirshberg, who raised $400,000 for Clinton, wrote to Podesta.
"This will give Bernie a huge boost and 10,000 -20,000 outraged citizens ( who WILL turn up because they will be so angry at the President for preemption vt) will be marching on the Mall with Bernie as their keynote speaker."
Podesta responded to Hirshberg: "Has Vilsack [Tom] signed off on this?" Although the email exchange doesn't show if Podesta took action on Hirshberg's marching orders, we do know Obama signed the GMO-labeling bill in July.
And following the pattern, both outside advisers for Clinton as well as donors and fundraisers operate under the knowledge that Clinton's campaign has a direct line to Obama's White House; free to use it at their leisure to help them defeat Bernie Sanders.
And, as anyone with a brain suspected, but WikiLeaks confirmed Tuesday, President Obama knew Clinton was using a private email while playing dumb that he didn't.
WikiLeaks has hinted at releasing new emails every day through the election (and beyond). As much as the focus rightly centers around Clinton, progressives and Americans of all stripes should also pay attention to the Obama revelations.
Which come at the same time cable news and print networks ready to dispense puff pieces about the great one's "legacy."
Conveniently leaving out he was bought and paid for by banks like Citigroup—and then helped his fellow bought-off friend and chosen successor.
Hillary Clinton.
— —
Jordan Chariton is a Politics Reporter for The Young Turks, covering the presidential campaign trail, where he's interviewing voters on both sides. He's also a columnist for Mediaite and here's his latest column. Follow him @JordanChariton and watch videos at YouTube.com/tytpolitics.
— —
This is an opinion piece. The views expressed in this article are those of just the author.
This is an opinion piece. The views expressed in this article are those of just the author.