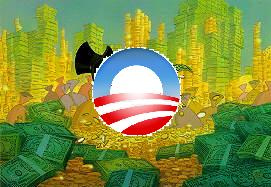 This morning, Obama For America Campaign Manager Jim Messina announced, via a web video, that the Obama Victory Fund raised $68 million in the fourth quarter of 2011. That staggering total eclipses the expected fundraising takes of all of the President's Republican rivals combined, and nearly triples frontrunner Mitt Romney's fourth quarter haul. While the campaign exceeded its goal of $60 million, the total fell short of the campaign's $70 million Q3 take.
RELATED: Mitt Romney Raises $24 Million In 4th Quarter, $56 Million Total For 2011
As per usual, Messina's message focused on the number of donors (1.3 million to date, 583,000 in Q4), and the size of the average donation ($55 in Q4). One encouraging sign is that, according to Messina, over 200,000 people donated to the campaign for the first time, an indication that there is fresh interest in the President's reelection.
Much is being made of the fact that President Obama's campaign is expected to raise a billion dollars, which will likely dwarf his eventual opponent's tally, but the Goliath vs. David optics of that are deceptive. Messina constantly points out that the President will face an unprecedented amount of opposition from independent groups, with no limits on donations, and no duty to disclose their individual donors. Messina projects the figure at $500 million, but there's really no way to tell. This will be the first presidential election held in the post-Citizens United petri dish.
The President does have SuperPACS like Priorities USA Action and American Bridge in his corner, but they're not nearly as well-funded as their conservative counterparts.
Here's Messina's announcement, via YouTube:
Have a tip we should know? tips@mediaite.com