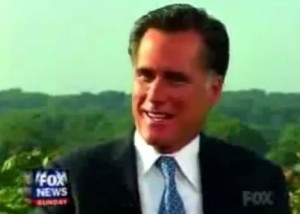 The Newt Gingrich campaign released an attack ad featuring a kitchen sink's worth of clunky Mitt Romney moments, but the undisputed star of the clip is Seamus, the Romney's Irish setter, who was famously strapped to the roof of the Romney family station wagon for a long road trip. Don't worry, though. The ad shows Romney explaining, to Fox News' Chris Wallace, that Seamus was safely inside a "completely airtight kennel."
RELATED: David Axelrod References Mitt Romney's Dog On Car Roof Episode On Morning Joe
For the uninitiated, Axelrod was referring to an anecdote that appeared as part of a long profile of Romney in The Boston Globe:
Before beginning the drive, Mitt Romney put Seamus, the family's hulking Irish setter, in a dog carrier and attached it to the station wagon's roof rack. He'd built a windshield for the carrier, to make the ride more comfortable for the dog.
Then Romney put his boys on notice: He would be making predetermined stops for gas, and that was it.
The ride was largely what you'd expect with five brothers, ages 13 and under, packed into a wagon they called the "white whale."
As the oldest son, Tagg Romney commandeered the way-back of the wagon, keeping his eyes fixed out the rear window, where he glimpsed the first sign of trouble. "Dad!" he yelled. "Gross!" A brown liquid was dripping down the back window, payback from an Irish setter who'd been riding on the roof in the wind for hours.
As the rest of the boys joined in the howls of disgust, Romney coolly pulled off the highway and into a service station. There, he borrowed a hose, washed down Seamus and the car, then hopped back onto the highway. It was a tiny preview of a trait he would grow famous for in business: emotion-free crisis management.
The ad, entitled "For The Dogs," is ostensibly pegged to the idea that Romney is unfit to debate President Obama, but that's really just a fig leaf to exploit comical Romney moments like his recent "I like to fire people" gaffe (taken unfairly out of context), his comical rundown of his history of "varmint" hunting, or his impromptu performance of Who Let The Dogs Out?
For a candidate who has tried to draw a distinction between "going negative" and drawing legitimate contrasts, this is an exceedingly cheap exercise.
Here's the clip, via YouTube:
Have a tip we should know? tips@mediaite.com