President Trump's Vacations & Golf Outings Have Almost Bankrupted the Secret Service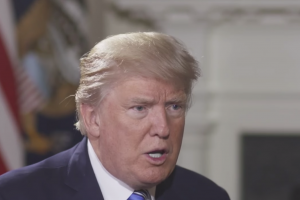 Despite Donald Trump promising he would "not be a president that takes time off" prior to his election, the now president has depleted the funds of the Secret Service due to his constant travel and golf outings.
According to a USA Today report, over 1,000 agents have already maxed out their allocated salary and overtime funds for the year — even though it's only August. This spending includes visiting Mar-a-Lago seven times at $3 million a trip, Eric Trump going to Uruguay and costing Secret Service $100,000 for hotel rooms, and $60,000 on agent's golf cart rentals.
Additionally, Secret Service expenses have included trips almost every weekend that Trump has been in office — including 23 golf outings, 55 trips to his properties, and a 17 day vacation while the White House was being repaired. Ironically, prior to his White House service, Trump complained 27 times on Twitter alone that President Barrack Obama spent too much time golfing.
The USA Today article explains:
Overwork and constant travel have also been driving a recent exodus from the Secret Service ranks, yet without congressional intervention to provide additional funding, [Secret Service Director Randolph Alles] will not even be able to pay agents for the work they have already done.

The compensation crunch is so serious that the director has begun discussions with key lawmakers to raise the combined salary and overtime cap for agents, from $160,000 per year to $187,000 for at least the duration of Trump's first term.

But even if such a proposal was approved, about 130 veteran agents would not be fully compensated for hundreds of hours already amassed, according to the agency.
The report also states that the current administration has 11 more people covered by Secret Service than Obama did.
"The president has a large family, and our responsibility is required in law . . . I can't change that. I have no flexibility," Alles adds.
The administration's long list of security expenses has resulted in a demand for Secret Service to raise their annual salary and overtime cap by $30,000 for the rest of Trump's presidency.
[featured image via screengrab]
Have a tip we should know? tips@mediaite.com