Pro-Sanders Group's Dig at Clinton Winning 'The Confederacy' Sparked a Childish Twitter War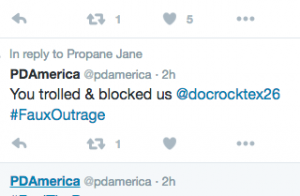 Progressive Democrats for America is a group that has not been shy about its support of Bernie Sanders. Earlier today, they send out a mailer about Hillary Clinton to their subscribers that looked like this:
This is COMPLETELY unacceptable, @pdamerica pic.twitter.com/100c9hd5hD

— Mary Quite Contrary (@OHTheMaryD) March 17, 2016
As you can see, recipients of this particular email were not thrilled. Here's a pretty succinct explainer on the anger:
Hillary won the Confederacy*

*by Confederacy we mean the votes of the descendants of people they fought to enslave https://t.co/3fd0TH1lXi

— Adam Serwer (@AdamSerwer) March 17, 2016
PDA quickly took note of the furor, issuing tweets with apologies. All of the apologies had a bit of a biting edge to them, however.
Our apologies @AlanGrayson
We screwed up & apologize
As someone recently said, "Now let's get back to the issues"

— PDAmerica (@pdamerica) March 17, 2016
The people who were offended by the original phrasing didn't take the apologies well and the situation devolved into a Twitter spat. When they began requesting a link to a full apology, they got blocked, according to this:
No @Donna_West of you troll us, you're blocked @allanbrauer

— PDAmerica (@pdamerica) March 17, 2016
It got nasty.
Already did several times @brownsugar7878
Fair minded people accept an apology@smoothkobra

— PDAmerica (@pdamerica) March 17, 2016
PDA is continuing to issue message on Twitter. This post will be updated if a link to a full apology becomes available. For now, the conversation has become somewhat childish:
@Beulahmo nooope
She blocked us then attacked us for blocking her

— PDAmerica (@pdamerica) March 17, 2016
[image via screengrab]
Fore more from Lindsey, follow her on Twitter.
Have a tip we should know? tips@mediaite.com