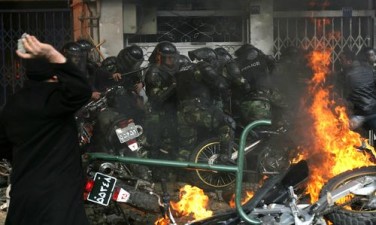 News of violent protests in Tehran, Iran have reignited the Twitter movement #iranelection, which many point to as a defining moment for the 140-character service during highly contested elections last summer. The New York Times is reporting that police opened fire on a crowd, killing at least four, on the anniversary of the death of "Shiite Islam's holiest martyr."
"Death to the dictator!" the crowds reportedly chanted, according to witnesses and web reports. As he did over the summer, Atlantic blogger Andrew Sullivan is chronicling the bloody action at his Daily Dish blog, complete with graphic photos and a barrage of tipped information. Quotes and YouTube information are also being posted frequently.
Via the Times:
The police then opened fire directly into the crowd, opposition Web sites said, citing witnesses. At least four people were killed, the Web sites reported, and photographs circulated of a man with a bloodied head being carried from the scene.

One of the dead was Ali Moussavi, Mr. Moussavi's 35-year-old nephew, the Parleman News Web site reported. He was shot near the heart at midday in Tehran's Enghelab Square, the report said.

Protesters successfully pushed the police back in some areas, hurling rocks and capturing several police cars, which they set on fire. Videos posted to the Internet showed scenes of mayhem, with dumpsters burning and groups of protesters attacking Basij militia volunteers amid a din of screams.
But the most fascinating media aspect of the Iranian clashes is the continued resurgence of the Twitter movement. The trending topics list currently includes #iranelection, a catch-all hashtag, in addition to #CN4iran, "designated by Chinese twitter users offering support to the Iranian uprising," according to a Daily Dish reader, even though the service is blocked in China.
Times blog The Lede is also running extensive social media coverage.
It has never been easier to keep up with a revolution, detached as it may be.
(photo via Andrew Sullivan)
Have a tip we should know? tips@mediaite.com