Puerto Rico Governor Responds to Trump Calling Hurricane Response an 'Unsung Success'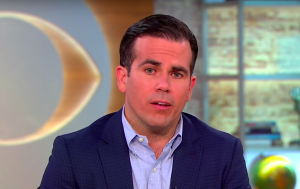 Puerto Rico's Governor Ricardo Rosselló issued a statement responding to President Donald Trump's claims today that the federal government response to the Hurricane Maria disaster was an "incredible unsung success."
"No relationship between a colony and the federal government can ever be called 'successful' because Puerto Ricans lack certain inalienable rights enjoyed by our fellow Americans in the states," Rosselló stated today. "The historical relationship between Puerto Rico and Washington is unfair and unAmerican. It is certainly not a successful relationship."
He continued:
"This was the worst natural disaster in our modern history. Our basic infrastructure was devastated, thousands of our people lost their lives and many others still struggle. Now is not the time to pass judgement; it is time to channel every effort to improve the lives of over 3 million Americans in Puerto Rico."
Rosselló went on to say that work still "needs to be finished" and that he is expecting federal help in the on-going recovery process.
"This reconstruction is a pivotal moment in our history," the governor wrote. "It will help pave the way to a new and stronger Puerto Rico."
As for Trump's comments, during an Oval Office meeting today, the president said, "I think Puerto Rico was incredibly successful," despite the fact that nearly 3,000 people lost their lives due to the disaster.
"I think probably the hardest one we had by far was Puerto Rico because of the island nature," Trump added. "I actually think it was one of the best jobs that's ever been done with respect to what this is all about."
The president also referred to the government efforts to help Puerto Rico as "an incredible unsung success."
Governor Rosselló of Puerto Rico issued statement responding to Pres Trump calling the Federal response to the hurricane disaster there last year "incredibly successful" pic.twitter.com/CZwX2VePe3

— Mark Knoller (@markknoller) September 12, 2018
[image via screengrab]
Follow the author on Twitter (@calebecarma).
Have a tip we should know? tips@mediaite.com