Putin's PR Firm Insists He Wrote Op-Ed Himself, Aides Say He Wrote 'Basic Content'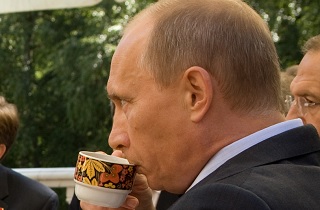 Not since Homer Simpson wrote a letter to Die Hard has a piece of editorial opinion received the detailed attention given to Russian President Vladimir Putin's New York Times op-ed. The piece prompted a rushed background statement from the White House, an effusive tick-tock from the Times' public editor, and now, a denial from Putin's public relations firm that they contributed to the content of Putin's editorial. Times editorial page editor Andrew Rosenthal said it was good, but was it that good?
Reaction to Putin's editorial has been strange, with conservatives like Pat Buchanan offering praise, and even liberal publications that exhaustively detail just how fraudulent and deluded it is declaring it a win for Putin, and a loss for President Obama. Now, Putin's piece is apparently so brilliant that no one can believe he actually wrote it.
In explaining the submission process to the New York Times' public editor, editorial page editor Andrew Rosenthal said that "there was no way of knowing whether Mr. Putin himself wrote the article – 'with a public official you can never know,' because they tend to have staffers who write their speeches and other communications. But, he said, it needed virtually no editing and went through almost no changes. 'It was an amazingly good translation,' he said."
Ketchum, the PR firm that submitted the piece for Putin, insists he did. From Buzzfeed's Rosie Gray:
A public relations firm responsible for placing a controversial op-ed under Russian President Vladimir Putin's byline in the New York Times on Wednesday says that Putin wrote the piece himself.
"The opinion piece was written by President Putin and submitted to The New York Times on his behalf by Ketchum for their consideration," a spokesperson for Ketchum said in an email to BuzzFeed on Thursday.
Gray notes that a Putin spokesman told The Guardian that Putin wrote the "basic content" of the editorial. From The Guardian:
Putin's spokesman Dmitry Peskov said the article was all Putin's idea. "The basic content was written by [Putin], then his assistants worked out the text," Peskov said.
It's good that we got that settled, but really, was all of this necessary? Who else could have written it? Are people really forming J.D. Salinger death hoax conspiracies over this? That op-ed couldn't sound more like Vladimir Putin if it was read aloud by John Malkovich in his Rounders accent.
[photo via Pete Souza, the White House]
Have a tip we should know? tips@mediaite.com