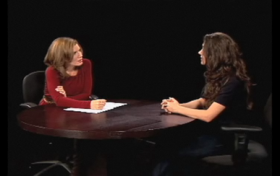 Remember a few weeks back when Ann Coulter was on Julie Menin's show talking about Maxine Waters and racking up the pageviews on HuffPo and this site in her usual, controversial way? Well, that probably won't happen with Menin's latest interview, which was with me. Still, I enjoyed it, mostly because Menin is a smart, prepared interviewer who hits a lot of different points well and with an eye to conversation and dialogue, not soundbites.
Part I:
Here we talk about the White House vs. Fox battle royale from a few weeks back, whether it was acceptable for Glenn Beck to call President Obama a racist, what happened to Van Jones, and whether Fox News is biased in their coverage (I said yes it was, citing their Tea Party coverage as an example).
Part II:
Here we talk about a favorite topic of mine, women in media and politics, and I revisit my coverage of Hillary Clinton from early and mid 2008, and how it took a while before people in media acknowledged that yes, fine, there were aspects of her coverage that were sexist ("When I hear her voice I cross my legs involuntarily" "She reminds me of a first wife in probate court" etc.)
Part III:
Here we discussed the Stupak Amendment and how the Health Care Debate became The Abortion Debate. I contend that abortion=health care, based on it being, you know, a surgical procedure. Menin asked me if I would have voted no on the whole health care bill over it, which was a tough question (and I am still not sure what I would have done, there were so many factors at play). I also call out Rep. Tom Price (R-Ga.) for his ridiculous and insulting "I object" stunt. Oh and I use the phrase "Abortion Candy Store."
Part IV:
Rachel Maddow, Jane Velez-Mitchell, (possibly/presumably) Anderson Cooper: Does it matter if a TV host is gay? Are we past it yet? And, what standard are they being held to? We also talk about the nexus of comedy, media and politics and how to balance the fun stuff/pageviews (cough Megan Fox) with the serious and important stuff (what I call peas vs. ice cream).


How nice of Julie and her team to welcome me for such a great interview. Julie Menin's Give and Take airs on WNBC's new 24-hour news channel, New York Nonstop on Sundays at 7pm Eastern.
Have a tip we should know? tips@mediaite.com