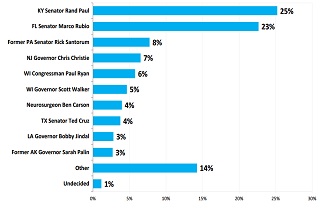 It could be argued that, like War, the CPAC Straw Poll is good for absolutely nothing, but it is the first chance the media has to take the temperature of conservative Republican voters. If this year's poll is any indication, attendees of the 2013 Conservative Political Action Conference have a mild case of Rand Fever, as Sen. Rand Paul (R-KY) edged Sen. Marco Rubio (R-FL) by a slim 25% to 23% margin. While the straw poll is an iffy-at-best indicator of a candidate's future success, the more interesting harbinger of this year's version is who wasn't included, and why: former Florida Governor Jeb Bush asked to be left off the ballot.
From The ACU:
In first place, Rand Paul secured 25% percent of the vote by registered CPAC attendees, followed by Senator Marco Rubio at 23% percent. Former Senator Rick Santorum received 8% percent of the vote, closely followed by Governor Chris Christie with 7% percent and Representative Paul Ryan with 6% percent.
Bringing up the rear were Gov. Scott Walker (R-WI) with 5%, prayer warrior Dr. Ben Carson and Sen. Ted Cruz (R-TX) with 4% each, and Gov. Bobby Jindal (R-LA) tying former Alaska Gov. Sarah Palin for last place, with 3%.
Other interesting results from the poll include the fact that CPAC attendees approve more strongly of killing U.S. citizens with drones (9%) than they do of President Obama (2%), and that 54% of CPAC attendees were 25 years old or younger.
As a true indicator of future electoral success, the CPAC straw poll is fairly useless. In 2008, former Massachusetts Gov. Mitt Romney won the straw poll even though he used his convention speech to drop out of the presidential race. Romney won again in 2009 with only 20% of the vote, but then Rep. Ron Paul (R-TX) took the next two CPAC straw polls. In 2012, CPAC attendees appeared to rally behind Romney once again, as he took 38% of the vote.
However, CPAC has only been gaining in media importance over the years, and the hunger for 2016 news means this poll will get outsize attention, and will likely provide a big boost to Rand Paul (please?). Regular CPAC followers will chalk up a certain amount of Rand's success to the Ron Paul Effect (followers of the former congressman are notoriously well-organized , especially at this event), but chances are the mainstream political media will trumpet Rand's victory as a validation of the energy around his recent filibuster.
The results are also a blow to Rep. Paul Ryan, whose meager hopes of a 2016 run have to be fading with his poor 6% showing. If ever there were a Paul Ryan crowd, it's the CPAC crowd.
The poll also showed double-digit support for "other," a number which might have included a significant support for former Florida Governor Jeb Bush, who was not on the ballot:
Notably, former Florida Gov. Jeb Bush, who spoke to CPAC on Friday night, asked that his name not be included on this year's straw poll ballot. Twenty-three other names did appear, however, including at least two governors — Chris Christie and Bob McDonnell — who were not invited to address the gathering.
That's significant because Jeb Bush, who's had a rocky media coming-out, is seen as one of the 2016 field's more moderate, electable Republicans, and asking to be left off the ballot seems to indicate a weak chin where his right flank is concerned. As meaningless as this super-early, non-scientific poll is, Jeb Bush apparently wanted to avoid headlines screaming his defeat. That's probably wise of him, because a briar patch that includes Rand Paul as the frontrunner is someplace the Democrats would love to be thrown into.
Have a tip we should know? tips@mediaite.com