Obama As The Devil? The History Channel's The Bible's Stunning Look-alike (UPDATED)
On Sunday evening's episode of History Channel's hit series, The Bible, viewers immediately noticed the devil's depiction bore an uncanny resemblance… to President Obama.
Even prior to the episode's showing, Glenn Beck tweeted: "Anyone else think the Devil in #TheBible Sunday on History Channel looks exactly like That Guy?", adding a photo: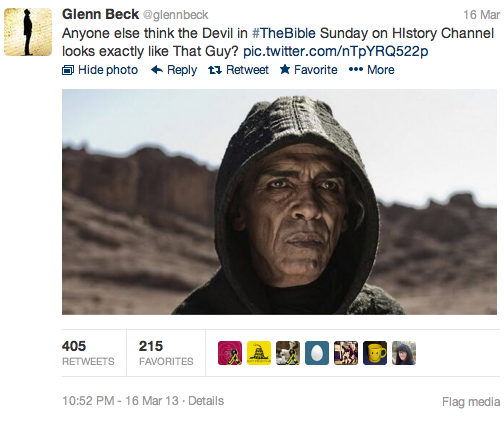 Once the episode aired, Twitter exploded with commentary on the matter. Most noted it was likely unintentional, chalking it up to an amusing coincidence.

Others were not so sure:
The incident drew reminders of HBO's inclusion of a fake George W. Bush head impaled on a stick, used in the background of a Season 1 Game of Thrones episode.
When the Game of Thrones controversy went viral in June of last year, HBO took immediate action, issuing an apology, halting shipments of the DVD's, and editing the scene from all future DVD productions.
At this time, neither History Channel nor Mark Burnett, The Bible series's creator, has issued any statement on the matter.
UPDATE: In a Monday statement, the History Channel said:
HISTORY channel has the highest respect for President Obama. The series was produced with an international and diverse cast of respected actors. It's unfortunate that anyone made this false connection. HISTORY's 'The Bible' is meant to enlighten people on its rich stories and deep history."
The Bible executive producers Mark Burnett and Roma Downey also said:
"This is utter nonsense. The actor who played Satan, Mehdi Ouzaani, is a highly acclaimed Moroccan actor. He has previously played parts in several Biblical epics– including Satanic characters long before Barack Obama was elected as our President."
UPDATE II: Beck also tweeted out a caution to the media to "relax" and that his initial observation was simply meant to be funny:
Media – relax. Actor has been in similar roles b4. Funny, nothing more. For different reasons, #TheBible is 1 of my fav shows. Keep watching

— Glenn Beck (@glennbeck) March 18, 2013
Have a tip we should know? tips@mediaite.com