Rand Paul Pulls Ahead In National GOP Primary Poll, Still Gets Crushed By Hillary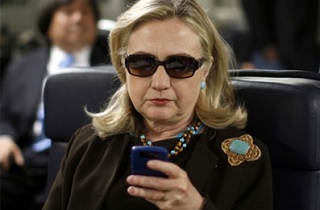 Early polling for the 2016 election has shown a trend, among Republicans, of favoring candidates who have the best chance of being clobbered by former Secretary of State Hillary Clinton, and the latest from Democratic-leaning (but dead-on accurate) Public Policy Polling continues that pattern. Senator Rand Paul (R-KY) has surged to the lead in PPP's national Republican primary poll, holding a three-point lead over his nearest competitors, but still trailing Hillary by eight points in head-to-head general election matchups.
As I predicted, Sen. Rand Paul's defense of Lincoln-hating secessionist staffer Jack "The Southern Avenger" Hunter hasn't hurt him, and has in fact helped him slightly extend his lead over the rest of the more electable field. In PPP's May poll, Sen. Paul surged from single digits to a close third on the strength of his much-ballyhooed filibuster. The Southern Avenger seems to have done even better for him:
Rand Paul sits ahead of the field at 16%, his highest numbers since April, and the first time he has held sole possession of first place. Behind him are Jeb Bush, Chris Christie, and Paul Ryan, all at 13%. This is a slight drop for Bush and Christie, who last month had both led with 15%. Just after that is Ted Cruz with 12%, a huge increase from 7% in May. Rounding out the frontrunners is Marco Rubio, who continues to slide in the polls, pulling in 10%. This is less than half of the 21% of the vote he received back in April.
Maybe it's just a coincidence that Rand Paul's Southen Avenger-fueled surge happens to correspond to that disastrous slide for Sen. Marco Rubio, whose party seems to have abandoned the idea of appealing to anyone but fearful white voters. All of this is great news for Hillary Clinton, who does better against Rand Paul than any of the rest, including Rubio, and whose margins against the non-Rand field have been narrowing:
In the general election, Hillary Clinton still leads her competitors, though the number of close races is growing. Chris Christie was once again within the margin of error in his head-to-head matchup, down 43% to 42%. So did Paul Ryan, who trails Clinton 46% to 44%, and Jeb Bush, who trails 44% to 41%. All three of the Republican candidates were able to pull in at least 10% of Democrats and lead by at least 5% with independents. Rand Paul is doing considerably worse, down 47% to 39%, due to the fact that he would only have the guaranteed support of 78% of his own party. Marco Rubio has rebounded considerably against Hillary, down 45% to 40%, compared to an 11% deficit last month.
There are three Republicans who are polling within three points of Hillary Clinton, and they're all losing to Rand Paul. Republicans auditioned a lot of base favorites before settling on "electable" eventual loser Mitt Romney, and early indications are they won't make the same mistake again, now that it might actually be helpful to them.
Have a tip we should know? tips@mediaite.com